Women bear the fruits of success!
08/03/2021
Posted by:

Sandra Borma

Category:

Kenya, News, Nigeria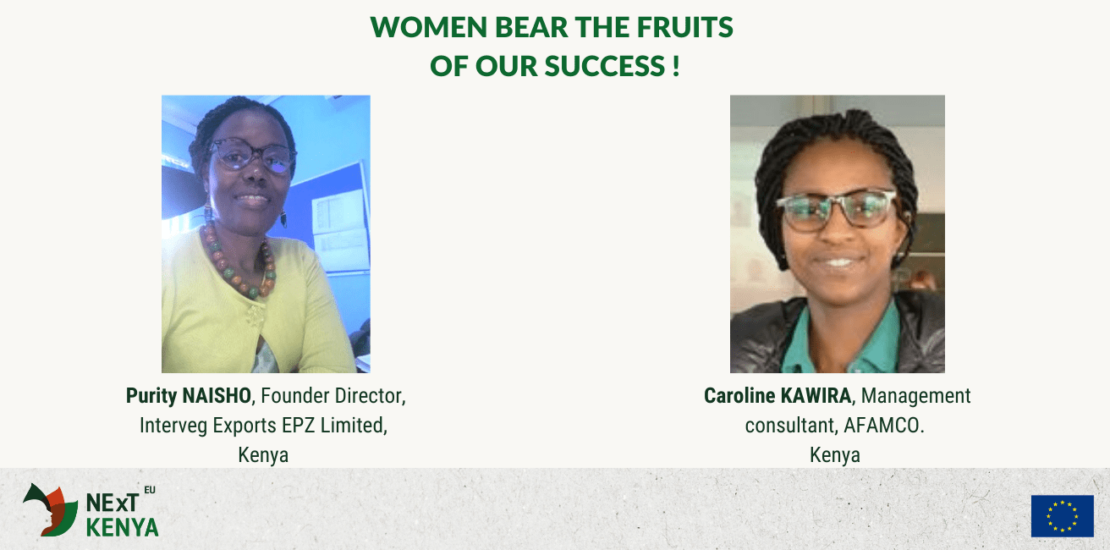 For International Women's Day 2021, COLEACP is celebrating women's achievements in Kenyan horticulture. Women entrepreneurs – as farm owners, input suppliers, service delivery enterprises, and running processing and export businesses – contribute to local, national and global economies, with significant impact on poverty reduction, job creation and the well-being of rural communities and society as a whole.
PURITY NAISHO is a founding director of Interveg Exports EPZ Limited, a family-owned business. She is also the current vice chair of the Fresh Produce Exporters Association of Kenya (FPEAK). INTERVEG contributes to the national economy through earning foreign income. The company employs a permanent staff of 26, and works with a casual labour force of about 100, and with several outgrower farmers who employ hundreds of people. Interveg owes its success to these local farmers, and supports them by providing inputs such as seeds and cash advances to buy fertilisers and pay their daily workers; technical expertise on good agricultural practices; and advise them on opening bank accounts to help manage their financial growth.
CAROLINE KAWIRA works as a small-scale farmer and agricultural advisor, and is a management consultant at the Africa Association Management Company (AFAMCO). With a BSc in food science & technology, an MSc in nutrition and rural development, and further training in partnership building, strategy and innovation, she focuses on entrepreneurship, innovation and youth engagement, and has a keen passion for startups. She promotes opportunities in sustainable agriculture on a one-to-one basis, through speaking engagements, and through the African Caribbean and Pacific Young Professionals Network #ACPYPN. Caroline supports young farmers to develop sustainable businesses, for example by training them on how to make organic pesticides and linking them to organic markets.
COLEACP's EU-funded NExT Kenya programme is supporting women horticultural entrepreneurs and advisors such as Purity and Caroline to enhance Kenya's sustainable horticultural exports and contribute to hundreds of livelihoods