Unlocking business opportunities for young entrepreneurs: FFM+ in Action at AASW8 Side Events
17/05/2023
Posted by:

Sandra Borma

Category:

ACP EN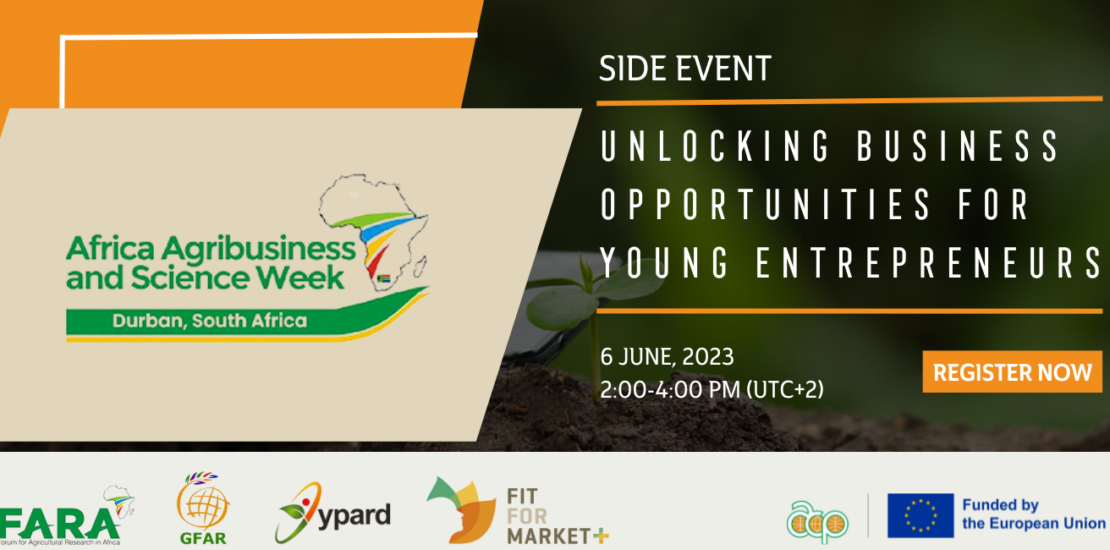 About 11 million young Africans enter every year the labour force which continuously adds pressure to local economies and food systems. Many young farmers and agri-entrepreneurs are innovators and risk-takers but lack access to market. There is an urgent need to strengthen the entrepreneurial ecosystem, especially in rural areas, to ensure that youth can establish viable livelihoods. Investing in youth and empowering young agri-entrepreneurs to engage responsibly in their farms and businesses are fundamental to achieve many Sustainable Development Goals (SDGs).
On Tuesday 6 June, 14h00-16h00 UTC+2, FARA, the COLEAD, YPARD and GFAR are convening to host a side event on Unlocking business opportunities for young entrepreneurs at the 8th African Agribusiness and Science Week (AASW). The session will feature four inspiring African entrepreneurs and a panel of experts who are part of the enabling ecosystem required for young entrepreneurs to grow. Find the programme and biodata.
The session will be held online and on-site in Durban, South Africa. Online participants must register using this link.
Live interpretation in English and French will be available.
The AASW is the main continental platform to share progress and information, network, create business alliances, and map out priorities for joint action. The 8th AASW focuses on strengthening linkages between agribusiness and science plus innovation to improve the continent's productivity and competitiveness in agro-industry. It will be held in Durban, South Africa, from 5 to 7 June. 
Registrations are required for on-site participation here.
Stay tuned for upcoming news articles about the stories of featured entrepreneurs!
COLEAD's contribution is supported by its Fit For Market Plus programme, implemented within the framework of Development cooperation between the Organisation of African, Caribbean and Pacific States (OACPS), and the European Union (EU).
This publication is supported with the financial support of the EU and the OACPS. Its contents are the sole responsibility of COLEAD and can under no circumstances be regarded as reflecting the position of the EU or the OACPS.