Three new market profiles from Fit For Market
11/02/2022
Posted by:

Mohamed Ndiaye

Category:

Burkina Faso, French beans, Guinea, Mali, Mangosteens, News, Pineapples, Sweet potatoes
Processed pineapples (Guinea), mango (Burkina Faso), and off-season fruit and vegetables (Mali)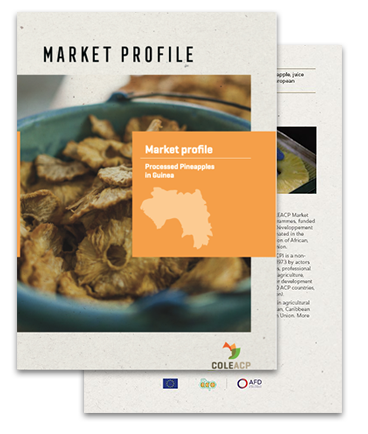 Processed pineapples in Guinea
This market profile focuses on the market opportunities for a selection of three processed pineapple products (dried pineapple, juices and syrups) in the Guinean, West African and European markets. Despite the decline in African pineapple exports to the EU due to strong competition with the MD2 variety from Costa Rica, pineapple is one of the priority commodities in Guinea's agricultural sector recovery programme, for which significant efforts have been made by the Guinean government in recent years. This Fit For Market study considers developing different varieties for more interesting niche markets, and the valorisation of unsaleable fresh pineapples for the local, regional (West African) and European markets.
Access to the full report, in English and French, is restricted to partner beneficiaries and COLEACP members.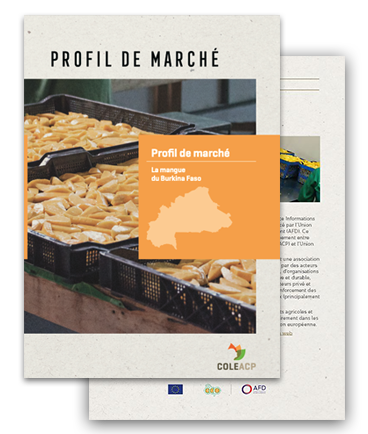 Mango in Burkina Faso
This market profile was commissioned by the European Union's Value Chain Analysis for Development (VCA4D1), which carries out agricultural value chain analyses in EU partner countries. The objective of VCA4D's work is to assess the contribution of sustainable and inclusive value chains to growth and job creation. The report assesses the market for Burkinabe mango, fresh and processed, at local, regional and international levels. It covers fresh mango (conventional and organic), which is now firmly established in the various markets; fresh-cut mango, taking advantage of the convenience trend and the popularity of healthier and natural snack products; pre-cut frozen mango, which benefits from the positive trend for convenience foods; dried mango, increasingly in demand for use in cereals and energy bars, and benefiting more generally from the positive trend in healthy snacks; mango purée, used by the fruit juice industry and in the preparation of dairy products and baby food; and mango juice.
Mango production in Burkina Faso has been increasing over the past years, and the country is becoming a significant player, not only for fresh exports, but mainly by developing processed mango products, with longer shelf life, and dried mango exports to the EU and the USA.
The market profile, available only in French, can be accessed here.
1 More information here : https://europa.eu/capacity4dev/value-chain-analysis-for-development-vca4d-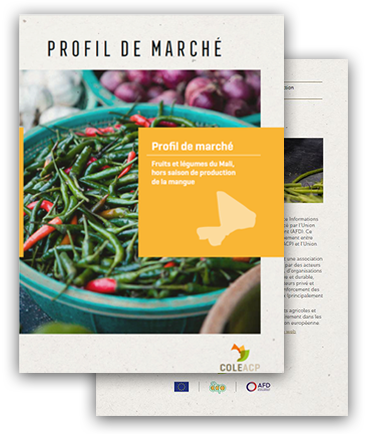 Off-season fruit and vegetables in Mali
This study from Fit For Market focuses on the opportunities for off-season fruit and vegetables in relation to the mango season in Mali. It identifies potential opportunities for fruit and vegetable diversification, particularly considering chillies, green beans and sweet potatoes.
Sweet potato and chilli show the most potential in local and regional markets, as these products are traditionally consumed, although competition is strong. In the longer term, they also have interesting export prospects. Mali has expertise in green beans, but current production is very low despite the attractive selling price. Currently there is little local consumption, which means less competition, but consumers will have to be persuaded.
The full report, in French only, is restricted to partner beneficiaries and COLEACP members, and can be accessed here.
These activities are supported by the Fit For Market programme, implemented by COLEACP within the Framework of Development Cooperation between the Organisation of African, Caribbean and Pacific States (OACPS) and the European Union, and co-funded by the French Development Agency (AFD).