The role of agricultural Research and Innovation on food systems transformation
01/07/2021
Posted by:

Sandra Borma

Category:

News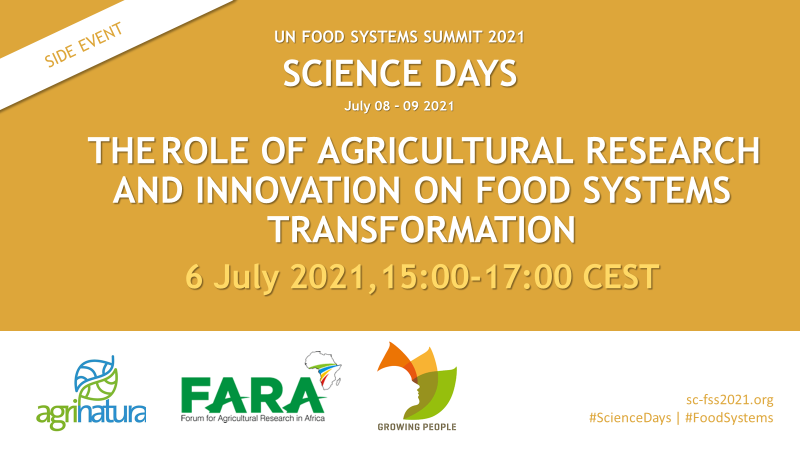 During the Science Days for the UN Food Systems Summit 2021, Agrinatura, the Forum for Agricultural Research in Africa (FARA) and COLEACP are co-organising a side-event on "The role of agricultural research and innovation on food systems transformation", on 6 July 2021, 15:00 – 17:00 CEST via Zoom.
During the side-event, DeSIRA LIFT partners will present successful cases of transdisciplinary research resulting from examples of Africa-European Union cooperation, and discuss good practices and principles, as well as recommendations for a long-term strategy for research and innovation. Alex Muli, co-founder and lead agripreneur of Goshen Farm Exporters Ltd, a Kenyan member of COLEACP that produces, processes and exports fresh fruit and snacks, will present on how links with research helped his company to grow, and which innovations contributed to its success.
This side-event aims to highlight the role of agricultural research and innovation in food systems transformation. Current farming systems need to adapt to climate change, and preserve soil and biodiversity, while producing healthy and affordable food. Such a profound transformation requires the collaboration of all stakeholders in food systems, and engaging in transdisciplinary research will boost this shift.
Agrinatura, FARA and COLEACP support this transformation, as well as the DeSIRA LIFT project for the development of smart innovation and research in agriculture. DeSIRA LIFT partners are engaging in demand-led, multi-stakeholder agricultural research and innovation to support CAADP XP4 organisations and their partners, the Global Forum on Agricultural Research (GFAR) and the Tropical Agriculture Platform (TAP), in their respective roles related to knowledge and innovation systems in agriculture. The objective of the project is to strengthen their roles in continental agricultural development and the joint Europe-Africa dialogue.
COLEACP, with the support of the Natural Resources Institute (NRI), leads one of the three work packages aimed at supporting the African research organisations, strengthening the collaboration between European and African research institutions in the Europe-Africa partnership processes both from an academic and multi-stakeholder perspective, as well as the engagement of European agricultural research for development, involving the private sector and including farmers' organisations.
You are kindly invited to join this side-event next Tuesday 6 July 2021, from 15:00 – 17:00 CEST via ZOOM. Click to register here and find more information in the flyer UNFSS Science Days Side Event_Agenda.