SPS Good Practice Guide for Penja pepper
02/11/2021
Posted by:

Gaetan Dermien

Category:

Africa, Cameroon, Pepper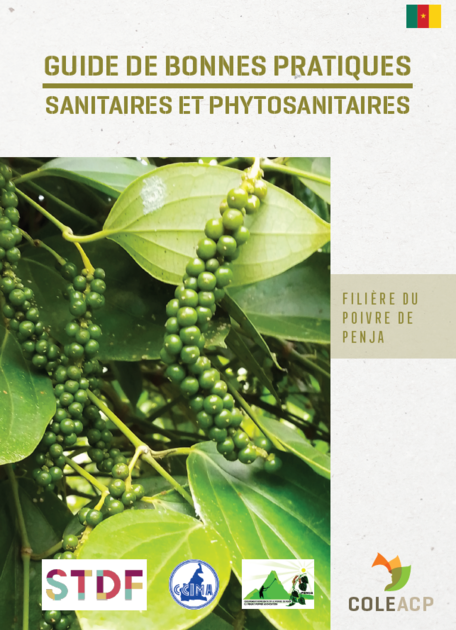 A "Sanitary and Phytosanitary Good Practice Guide for the Penja Pepper Sector" has recently been published in French and will soon be available in English. Together with sector stakeholders, the Penja Pepper Representative Geographical Indication Group (GRIGPP) managed the development and production of the guide, which is based on an analysis of SPS risks throughout the value chain. The publication was achieved through the project "Improving SPS capacity in the Penja pepper value chain", which is funded by the Standards and Trade Development Facility (STDF), Fit For Market SPS, GRIGPP, and Cameroon's Chamber of Commerce, Industry, Mines and Crafts (CCIMC).
Now, based on the key messages in this guide, work is ongoing to develop technical and learning tools on SPS good practices for the Penja pepper sector. These tools are being presented to stakeholders during training sessions for the various trades in the sector, which are currently under way.
Brochures on "Good Packaging and Storage Practices" and "Good Harvesting Practices" have already been published, and brochures are now in production on "Good Pepper Retting Practices (white pepper)", "Good Pepper Blanching Practices (black pepper)", and "Good Pepper Drying and Sorting Practices".
Great chefs place Penja pepper among the best peppers in the world, and it is the first Protected Geographical Indication (PGI) in sub-Saharan Africa. Given its high profile, the product could easily take a relatively large share of the market. But following the entry into force of the Economic Partnership Agreement (EPA) between Cameroon and the EU, the Cameroonian private sector faces stiff competition from more competitive European products that respect international SPS standards. The recommendations in this guide should ensure the SPS safety of batches of Penja pepper to allow market access for this product, as well as informing all stakeholders in the Penja pepper value chain about the SPS safety standards and regulations that Penja pepper must meet.
This activity is organised within the framework of the Project to Strengthen the Phytosanitary Monitoring and Certification System for Cameroon's fruit and vegetable sector, supported by the Standards and Trade Development Facility (STDF) and implemented by COLEACP. It is also supported by the Fit For Market SPS programme, implemented by COLEACP within the Framework of Development Cooperation between the Organisation of African, Caribbean and Pacific States (OACPS) and the European Union.