Sandra, Noël and Rachel – three innovative and inspiring entrepreneurs from Africa and the Caribbean, honoured during EDDs 2022
13/07/2022
Posted by:

Gaetan Dermien

Category:

Africa, Caribbean, News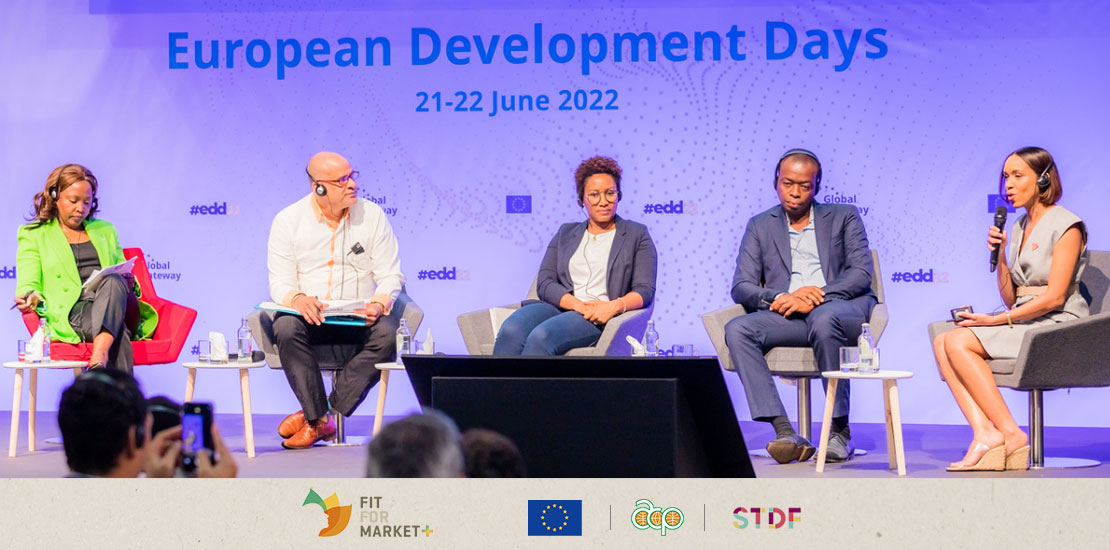 On 22 June, during the European Development Days in Brussels, three young entrepreneurs from Africa and the Caribbean had the opportunity to present their business model promoting sustainability, links with research, development and adoption of technologies, and the use of digital tools in a Lab Debate organised by COLEACP and its partners.
The European Union (EU)'s premier forum for international partnerships took place physically in Brussels and online on 21-22 June. It focused on the implementation of the EU's Global Gateway strategy, which aims to develop smart and secure links in the fields of digital, energy and transport, and to strengthen health, education and research systems around the world.
The agri-food sector, which provides two-thirds of jobs in sub-Saharan Africa, will be essential to the economies of tomorrow's developed countries. Its future will depend on innovation and the development of skills needed for the emergence of new professions and new generations of entrepreneurs who will make agriculture a sustainable and resilient ecosystem.
This is the purpose of the new Fit For Market+ (FFM+) programme, funded by the European Union and the Organisation of African, Caribbean and Pacific States (OACPS), which was officially launched on 1 June and presented at the EDDs via the stand of COLEACP and its partners (EC/INTPA, the OACPS, STDF).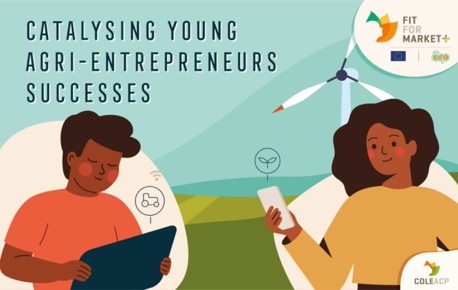 The Lab Debate on "Catalysing the Success of Young Agri-Entrepreneurs" was moderated by Escipión Oliveira Gomez, Assistant Secretary General, Department of Structural Economic Transformation and Trade at the OACPS. The OACPS was also represented by Yvonne Chileshe, a product and value chain development expert. Three entrepreneurs from Côte d'Ivoire, Ghana, and Trinidad and Tobago shared their innovative and inspiring experiences with the large audience.
Sandra Snowden, Managing Director and co-founder of Hendy Farms Ltd (Ghana), opened the discussion by presenting how her company, which produces fresh and processed mangoes (dried, frozen, as jams and hot sauces) works with young farmers and helps them produce mangoes that meet the requirements of international markets. Sandra emphasised the value added to the company's products through training the many women she employs to reduce post-harvest losses and to adopt new techniques for processing fresh produce.
Noël N'guessan, a bioprocessing engineer from Côte d'Ivoire, shared how the biotech company LONO that he co-founded in 2016 enables small-scale farmers to recycle nutrients and organic matter. Noel has developed two composters under the Kubeko brand that turn agricultural organic waste into electricity and fertiliser. The company works with cooperatives and partner organisations such as ECOCERT working on the sustainability of value chains like cocoa and various fruits. The company is also developing larger-scale industrial composting projects that create a local bioeconomy for organic waste.
Rachel Renie shared her experience and achievements as an active entrepreneur and business mentor in Trinidad and Tobago. Rachel is co-founder and CEO of D'Market Movers, Trinidad and Tobago's first online distribution company specialising in the delivery of fresh, ready-to-eat food products (fruit, vegetables, dairy, meat) from local producers. She also created Farm & Function, a line of frozen products made from local and exotic processed fruits, mainly to replace some imported frozen fruits (such as pineapple and mango). Rachel supports local food businesses in Trinidad and Tobago and throughout the region through Market Movers Design, which specialises in branding, packaging, e-commerce solutions and market standards.
You can view the video recording, photos and more information about the Lab Debate here.
This EDDs Lab Debate was organised by the EU Directorate-General for International Partnerships (DG INTPA), the Organisation of African, Caribbean and Pacific States (OACPS), the Standards and Trade Development Facility (STDF), and COLEACP.