Presentation of the findings of an EU trade visit, and the outcome of a COLEACP-supported study
20/07/2022
Posted by:

Sandra Borma

Category:

Kenya, News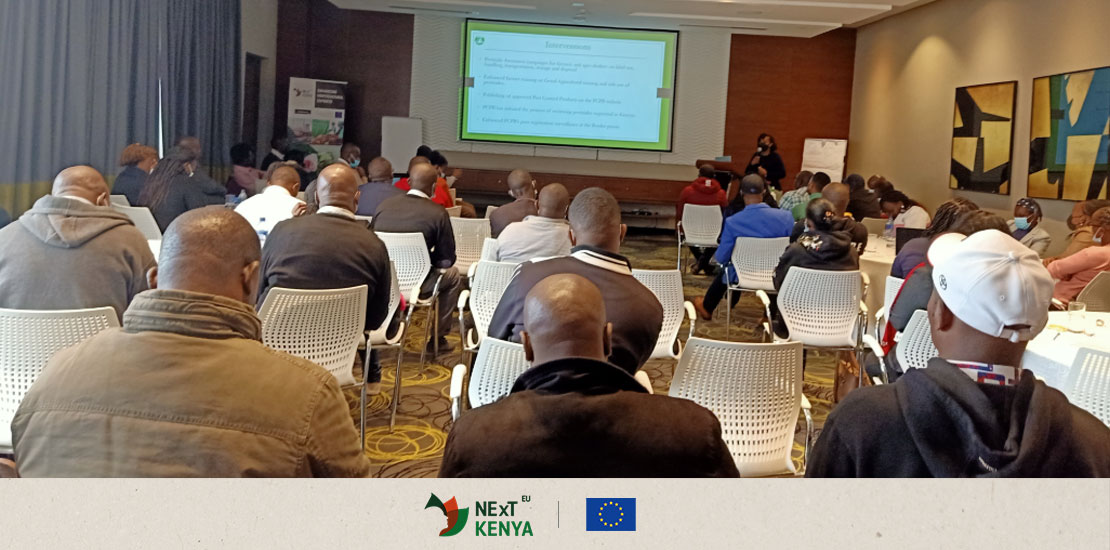 The National Horticulture Taskforce (NHT) of Kenya is a multi-stakeholder interactive and consensus-building forum with representation from public and private sector stakeholders in the horticulture sub-sector, promoting private-public sector dialogue. The major goal being to assure Kenya's horticultural produce complies with market requirements and sustains its reputation as a leading grower and exporter of horticultural produce. The taskforce is involved in activities such as: capacity building; accreditation of business support facilities; awareness creation; development of common strategies; risk assessment; adoption of international codes of practice and regulations; and market diversification.
To address some of these issues, the NHT undertook two critical activities facilitated by the NExT Kenya programme:
Between 2021 and 2022, the NHT commissioned a study to identify structural and cyclical bottlenecks affecting the competitiveness – and resilience – of the Kenyan horticultural sector in the short, medium and long term. The findings of the study aimed to offer pragmatic and in-depth recommendations on how to best deal with the identified bottlenecks, allow representatives of the Kenyan horticultural sector to derive clear priority actions to increase the competitiveness of the sector and take advantage of new market opportunities.

A trade visit to some of the countries of the European Union (EU) – France, Belgium, Netherlands, Germany – was organised in March-April 2022 with the objective of understanding current regulatory and market requirements, deepen existing trade relations and bridge the gaps occasioned by the shifting market dynamics for the Kenyan horticultural sector in light of:
evolution of the European market and regulations
the partnership between Kenya and the EU
the shared vision to contribute to the Sustainable Development Goals (SDGs).
The Kenyan delegation was drawn from the NHT, composed of key regulatory agencies in the horticultural sector, Kenyan embassies in the targeted EU countries, the private sector and development partners.
This activity was implemented by COLEACP and supported by the NExT Kenya (New Export Trade) programme, established in collaboration with the EU Delegation in Nairobi and Kenyan stakeholders.