News digest: policy
22/04/2021
Posted by:

Zuzana Majeska

Category:

Africa, Caribbean, News, Pacific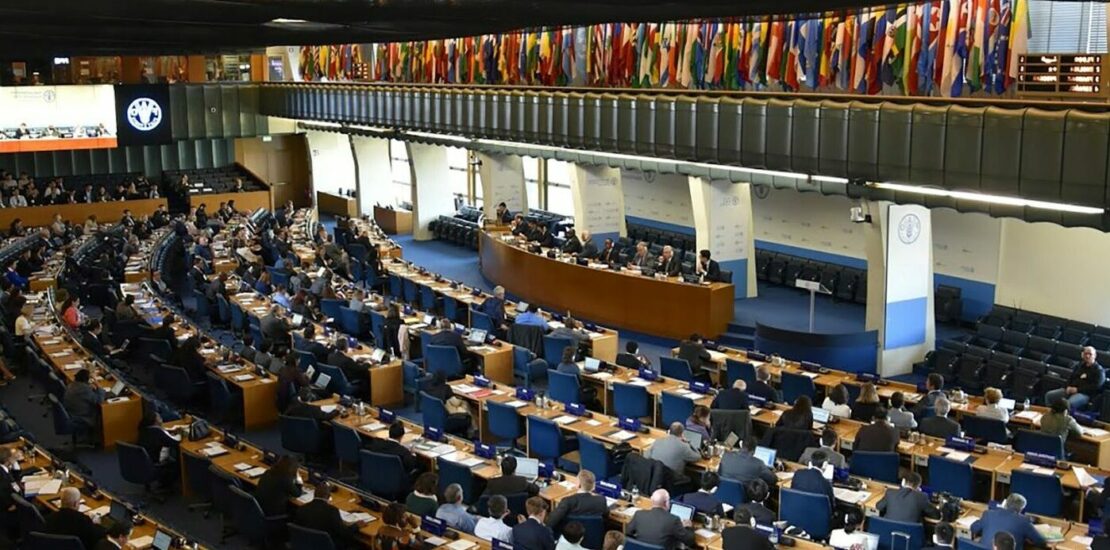 GLOBAL
2021 Global food policy report: Transforming food systems after Covid-19
On 13 April the International Food Policy Research Institute (IFPRI) launched its 2021 Global Food Policy Report. Covid-19 upended our food systems in 2020, leading to lost livelihoods, food insecurity and rising poverty. The report looks at the critical lessons learned from the pandemic so far and explores opportunities for transforming our food systems to be more resilient, healthy, sustainable, efficient and inclusive going forward.
Critical questions addressed include:
What different challenges did the pandemic spark in Africa, Latin America and Asia, and how did these regions respond?
How did companies accelerate ongoing trends in digitalisation and integration to keep food supply chains moving?
Who felt the greatest impact from falling incomes and food system disruptions caused by the pandemic?
Can better integration of agricultural and ecosystem polices help prevent the next pandemic?
Source: IFPRI, 13 April
Covid-19 and e-commerce: global review
The UN Conference on Trade and Development (UNCTAD) has published a global review of the impact of the Covid-19 pandemic on e-commerce and digital trade. The review finds that the pandemic has led to an acceleration of digital transformation – for example, more than 40% of customers surveyed in four large African countries said that they plan to reduce their supermarket shopping in future, shifting some food purchases online alongside clothing and electronic products. The report notes that greater efforts will be critical to reduce inequalities in e-trade readiness among countries. It calls for governments, businesses, consumers and international development partners to ensure e-commerce plays a "positive and powerful role" in national and international recovery efforts.
Source: IISD, 22 March
How has the pandemic strengthened the global food supply chain?
Covid-19 has been a stress test for the world's food supply chains – and a preview of looming threats. Efforts to improve the journey from farm to fork are more urgent than ever. At the start of the pandemic in 2020, crops worth billions were wasted as restaurants and other food service businesses, shuttered by lockdowns, stopped buying. But growers pivoted to new buyers, shippers and packers adapted, exports resumed and the food system came back to life. The experience with Covid-19 can be viewed as a kind of stress test for our global food system, highlighting its strengths as well as its weak points, and helping to focus on what needs to change to build a truly resilient system. We're likely to need that resilience soon, as climate change makes droughts, floods, windstorms and other extreme events more common. Read the full article here.
Source: The Counter, 25 March
WTO: Post-Covid-19 recovery must not leave anyone behind
World Trade Organization Director-General Ngozi Okonjo-Iweala, joined by five heads of international organisations, stressed the need to keep global trade flows open to ensure that developing and least-developed countries have access to essential medical goods to control the spread of Covid-19 and are able to use trade to drive sustainable economic recovery. The speakers were taking part in a high-level plenary session held on Day 1 of the online Aid for Trade Stocktaking Event on 23 March. DG Okonjo-Iweala said "Working together now to invest in the recovery of trading partners is not just the right thing to do. Building back a greener, more equitable, more prosperous global economy is a matter of economic self-interest for all countries." Read her full speech here.
Source: WTO News, 23 March
OECD Policy Paper: Youth aspirations and the reality of jobs in Africa
A new publication by the Organisation for Economic Co-operation and Development (OECD) focuses on the large gap between youth aspirations and the reality of labour markets in Africa. Evidence from ten African countries shows that what youth in these countries value most is job security, such as work in the public sector. Agriculture remains an important source of jobs for many young people in Africa – around 39% of African youth are working in agriculture – but young workers in agriculture are less often satisfied with their work than those in other occupations. This indicates the importance of investing in agriculture, improving access to markets, developing the use of information and communication technology, and supporting innovations in the sector in order to reconcile young people with agriculture and attract talented young people to agriculture-related occupations.
Source: OECD Library, March
FeedUP@UN, a new digital solution by UNECE
FeedUP@UN is an innovative digital solution designed by UNECE for recording food lost or otherwise wasted.
It is based on blockchain technology and brings all different parties together in one virtual space while contributing to a more circular production and responsible consumption.
Source: UNECE
UNEP: Food waste report
The Food Waste Index Report 2021 by the United Nations Environment Programme (UNEP) and partner organisation WRAP states that 936 million tonnes of food were thrown away in 2019. Most of the waste comes from households (about 570 million tonnes), while food services (5%) and retail (2%) are at a lower level. Globally, 121 kg of food is thrown away per person each year, of which an average 74 kg comes from households. "Reducing food waste would reduce greenhouse gas emissions, slow the destruction of nature through land conversion and pollution, increase food availability and thus reduce hunger, and save money in this time of global recession", said Inger Andersen, UNEP's Executive Director. It is recalled that 690 million people faced hunger in 2019 (certainly increasing due to the Covid-19 crisis) and 3 billion people cannot afford to eat healthy food.
Source: Fruchthandel, 10 March
AFRICA-EU
Post-Cotonou negotiations on new EU-ACP Partnership Agreement concluded
Initialling of the new Partnership Agreement between the European Union and members of the Organisation of African, Caribbean and Pacific States (OACPS) on 15 April marks the formal conclusion of the negotiations of the Post-Cotonou Agreement, setting the political, economic and sectorial cooperation framework for the next 20 years. The Agreement, which will succeed the Cotonou Agreement once both sides complete their internal procedures for signature and conclusion, sets the scene for alliance-building and more coordinated actions on the world stage where the group's impact can be significant to tackle some of the most acute global challenges. Together, the EU and the members of the OACPS represent over 1.5 billion people and more than half of the seats at the United Nations.
Source: EC press release, 15 April
High-level EU–Africa Green Investment Forum
On 23 April an online forum – "Africa's green future: New investment pathways towards sustainable, inclusive development" – will bring together leading government and business figures, international and development financial institutions, and academia. The forum gathered the perspectives of both public and private sectors on sustainable development and green investment in Africa, and will showcase green and sustainable business models. Topics include the role of the European Union and its Member States in curbing climate change across the world, with a focus on Africa; how international financial institutions are responding to this challenge through targeted, innovative instruments and enhanced outreach; and how private sector models are changing to become greener and more sustainable.
Source: European Investment Bank, April
Spain plans Africa-focused foreign policy
Spanish prime minister Pedro Sanchez has unveiled a new policy: "Africa Focus 2023", aiming to build closer economic and institutional ties with various African countries. Spain is hoping to be a big player in trade within the African Continental Free Trade Area (AfCFTA), which is estimated to include 2.5 billion people by 2050. Spain has nominated seven priority nations on the continent, including Senegal, Côte d'Ivoire, Ghana, Kenya, Angola, Mozambique and Tanzania. In addition, Morocco, Algeria, Egypt, Rwanda and Uganda are singled out as "countries of economic interest" for Spain. In 2019, Spain imported €27 billion worth of products from Africa and exported goods to the tune of €19 billion.
Source: InfoMigrants, 30 March
AFRICA – AfCFTA
New PAFO study on the AfCFTA
The April newsletter of the Panafrican Farmers' Organization (PAFO) focuses on the launch of the African Continental Free Trade Area (AfCFTA), and PAFO's just-published study, "Positioning of African Farmers' Organizations in the context of the AfCFTA". The study explains how to best position the networks of African farmers' organisations in the context of the AfCFTA. It assesses the degree of involvement of farmers' organizations in the negotiation process, and the best way to build capacities to fully participate in implementation of the free trade area for the benefit of African farmers. It also presents recommendations to support PAFO's efforts to ensure effective implementation by helping its respective member networks to take full advantage of the opportunities offered by AfCFTA. PAFO President Elizabeth Nsimadala writes that "it is necessary to consider certain strategic interventions to go beyond the status quo in the development of the potential of African farmers, and more particularly within the framework of the AfCFTA".
Source: PAFO newsletter, April
AfCFTA: Deepening private sector engagement
The African Development Bank, the UN Industrial Development Organization and the International Trade Centre hosted a webinar on 24 March with the theme "Implementing the AfCFTA: the Need for Deepening Private Sector Engagement and Commitment", on the sidelines of the 2021 WTO Aid-for-Trade Stocktaking Event. The panelists reflected on measures to promote the benefits of the AfCFTA among the private sector; suitable trade policies and regulations to make the AfCFTA work for the African business community; and steps to increase intra-African trade. They also explored ways to boost the participation of MSMEs, women and young entrepreneurs in the new single market. Watch the replay here.
Source: AfDB News, 24 March
AfCFTA Secretariat and UNDP sign strategic partnership agreement
The African Continental Free Trade Area (AfCFTA) Secretariat and the UN Development Programme (UNDP) have signed a strategic partnership to promote trade as a stimulus for Africa's socioeconomic recovery from the Covid-19 crisis. UN Assistant Secretary-General Ahunna Eziakonwa said "If we succeed, we will have contributed to creating stronger and more resilient inclusive and green economies in Africa characterised by rising incomes, jobs, more balanced trade, and better returns from Africa's natural resources". As Africa trades more with itself, it will be essential to target critical hurdles faced in exporting within Africa, such as SME export competitiveness, rules of origin, and technical and product safety standards.
Source: Namibia Economist, 1st April
AFRICA: REGIONAL
WADB to double its capital to invest in agriculture
The West African Development Bank (WADB) is aiming to double its capital (from CFAF 876 billion to 1,626 billion) by 2022. This would allow it to finance priority sectors such as agriculture, food security, renewable energy and infrastructure. One agricultural project concerns the development of nearly 12,200 ha of rice, with the aim of producing 170,300 t per year.
Source: Commodafrica, 1st April
West Africa: €2.3 million for climate-smart agriculture
Ten new climate-smart agriculture pilot projects are being launched in seven West African countries: Cape Verde, Gambia, Ghana, Guinea, Guinea Bissau, Nigeria and Sierra Leone. They will be implemented over a period of 20 months at a total cost of €2.3 million. The objective of the pilot projects is to finance the implementation and capitalisation of innovative local agricultural solutions with a high potential for replication and/or scaling up for the West African region, focusing on adaptation to the impacts of climate change (seed selection, climate services, agro-ecological practices, early warning systems) and the mitigation of greenhouse gas emissions (carbon storage, solar pumping, renewable energies in processing units, etc.). The projects were selected following the second call for projects "Innovations for smart family farming in the face of climate change in West Africa" launched in the framework of the GCCA+ West Africa project, financed by the European Union and implemented by Expertise France under the political and institutional leadership of the Economic Community of West African States (ECOWAS), and in technical partnership with the Permanent Interstate Committee for Drought Control in the Sahel (Cilss).
Source: Commodafrica, 7 April
ECOWAS Bank seals €40 million deal to support SMEs
The ECOWAS Bank for Investment and Development (EBID) has signed a €40 million framework agreement with the ODDO BHF Aktiengesellschaft, a Franco-German financial services group with a longstanding track record and expertise in trade financing. The fund will be used to strengthen the prospects for small and medium-scale enterprises (SMEs) and industries to enable them to contribute to economic growth in the continent, generating employment by financing projects in areas such as renewable energy, agribusiness and pharmaceutical production. EBID President Dr George Donkor said "the credit facility illustrates the commitment of the two institutions to the region's transformation agenda through sustainable support to the vital sector of agribusiness".
Source: This Day, 4 March
West Africa: Unique banking identification under way
The West African Monetary Institute (WAMI) is collaborating with the African Development Bank (AfDB) and the African Export Import Bank (Afreximbank) to create mechanisms that will improve economic and financial integration in the region and provide a strong platform for effective functioning of the African Continental Free Trade Area (AfCFTA). These include the bid to create a single unique banking identification system for the entire West African Monetary Zone. The payment platform would enable participants in the AfCFTA to buy and pay for goods and services from any African country in their respective local currencies.
Source: This Day, 23 February
East Africa: Finland commits €10.5 million to support trade
TradeMark East Africa (TMEA) and Finland have signed a financial agreement worth €10.5 million (Sh1.38 billion) that will help to support regional trade and the fight against Covid-19. Through this new Finnish funding, TMEA will scale up support to governments to adopt ICT for Trade systems in key trade agencies. Efforts will go towards supporting digital trade corridors and safe SPS trade corridors, and bolster trade structures at national, regional and continental levels.
Source: The Star, 2 March
Three-year plan to revive Cameroon's economy
The Cameroonian authorities have drawn up a three-year plan (2021-2023) to revive the economy, which went into recession in 2020 due to the Covid-19 pandemic. The plan, worth CFAF 872 billion (approx. €1.3 million), provides for 80 support actions grouped into four areas: production and processing of consumer products; business financing; growth sectors; business competitiveness. The funds come from domestic resources (Covid-19 special allocation account) and external resources (BADEA, UNDP, ADB, World Bank, Afreximbank, etc.)
Source: Investir au Cameroun, 29 March
Guinea-World Bank financing agreement
At the end of March, the Guinean authorities and the World Bank signed a $100 million financing agreement for the Guinea Commercial Agriculture Development Project (PDACG). This project includes numerous agricultural and agro-industrial infrastructure projects (rural roads, wholesale markets, logistics platforms, laboratories, warehouses), and also support for commercial partnerships, access to export markets and improvement of the business climate.
Source: Commodafrica, 30 March
Nigeria: Solidaridad-FMARD MoU to drive economic diversification
Solidaridad West Africa and the Federal Ministry of Agriculture and Rural Development (FMARD) have signed an agreement to enhance the diversification of the Nigerian economy by improving productivity in the country's agricultural sector. The Solidaridad Network works on creating sustainable supply chains from producer to consumer, and enables producers in developing countries to get a better price for better products, while preserving the environment. The organisation has largely been involved in improving oil palm, cocoa and horticulture.
Source: This Day, 9 March
Rwanda, Zimbabwe: Strengthening cooperation, particularly in agriculture
During a virtual meeting co-chaired by the Rwandan Minister of Foreign Affairs and the Zimbabwean Minister of Local Government and Public Works, several bilateral agreements were signed between the two countries. A permanent joint commission was also set up. ZimTrade (Zimbabwe Trade Corporation) and the Rwanda Development Board committed to promoting mutually beneficial trade and investment between the two countries. A conference on investment and trade between Rwanda and Zimbabwe is expected to be held in Kigali in July 2021: some 100 Zimbabwean companies have already announced their participation. Several cooperation agreements are reportedly still under discussion in the fields of agriculture and livestock, information and communication technologies, and higher education.
Source: La Veille Agricole, 22 March
EUROPE
Freshfel Europe celebrating 20 years
The 2021 Freshfel Europe Annual Event will take place online on 4 June 2021. To mark its 20th anniversary, Freshfel Europe will host a public event for the fresh produce sector to look back over the organisation's achievements. The Annual Event will also look ahead at challenges and new opportunities for fresh produce business, which are being reshaped by the European Green Deal, the Farm to Fork Strategy and the Covid-19 pandemic, especially in terms of business operations and eating habits for the upcoming decade. Freshfel Europe looks forward to welcoming public and private representatives that are shaping fresh produce business.
Source: Freshfel Europe, April
Team Europe increases Official Development Assistance
The EU and its 27 Member States significantly increased their Official Development Assistance (ODA) for partner countries to €66.8 billion in 2020. This is a 15% increase in nominal terms and equivalent to 0.50% of collective Gross National Income (GNI), up from 0.41% in 2019, according to preliminary figures published today by the Organisation for Economic Co-operation and Development's Development Assistance Committee (OECD-DAC). This confirms the EU's position as the world's leading donor, providing 46% of global assistance from the EU and other DAC donors, and is a major leap forward towards meeting the commitment to provide at least 0.7% of collective GNI as ODA by 2030.
Source: EC press release, 13 April
Agrinatura position on research and innovation in food systems
Agrinatura – the European Alliance on Agricultural Knowledge for Development – has published its "Position on research and innovation in food systems, a contribution to the dialogues preparing the UN Food Systems Summit". This position paper addresses the need for food system transformation, and the role of science and education in this transformation, as well as expectations for the Food System Summit. "Our food systems face severe and urgent challenges that cannot be solved with the solutions of the past. The complex problems of agricultural production, environmental degradation, and health problems under changing climatic conditions need a systemic approach of research and practice. The urgency also calls for closer cooperation in the way forward."
Source: Agrinatura News, 15 March