News digest: Agri-food policy
28/05/2021
Posted by:

Zuzana Majeska

Category:

Africa, Caribbean, Cocoa, News, Pacific, Pepper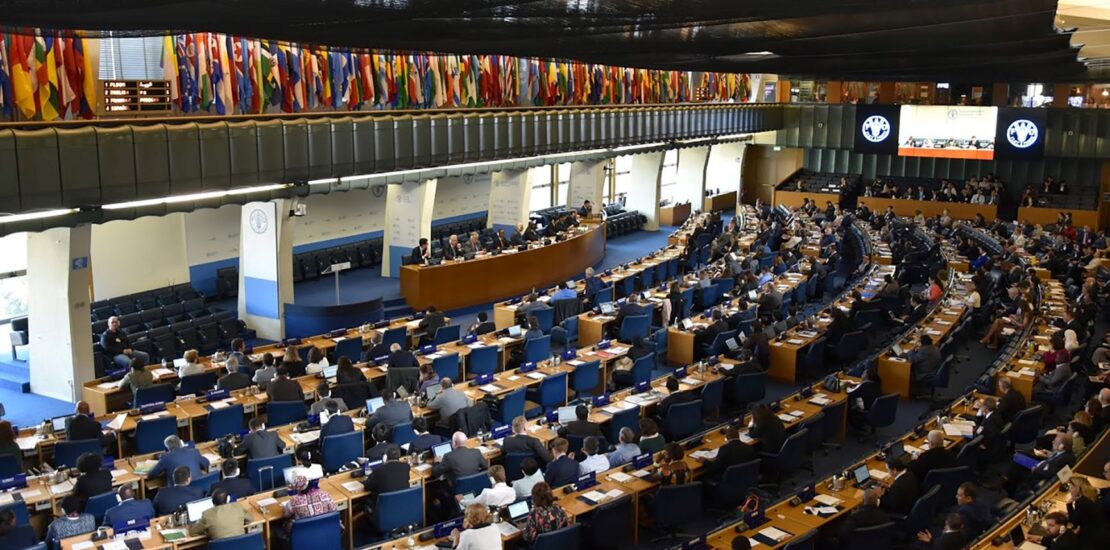 GLOBAL
Fairtrade Covid Fund: A significant impact for farmers
Fairtrade's Covid Relief and Resilience Fund is a joint effort developed by Fairtrade International, its member organisations, and government and commercial partners, aimed at delivering direct financial help to small-scale producers hard-hit by the Covid-19 pandemic. More than 500,000 farmers and agricultural workers in nearly 60 countries across Asia, Africa, Latin America and the Caribbean benefit from the Fund. Launched in 2020. the €15 million fund runs until 2022, providing personal protection equipment, Covid-19 prevention awareness campaigns, and support for livelihood diversification.
Source: Fresh Plaza, 6 May
Women in global value chains "hidden in plain sight"
A briefing from the Work and Opportunities for Women (WOW) programme, "Hidden in plain sight: Why we need more data about women in global value chains", points out how little we know about the millions of women who grow the food we eat. Despite being at the heart of global value chains, their invisibility prevents women from fully contributing to and benefiting from their productive work. And the lack of knowledge about this population of workers directly inhibits companies' ability to make informed business decisions about their supply chains. The report shows that by building on and enhancing the systems they already rely on, companies can make important steps towards improving the visibility of women in their value chains. Social compliance systems, if improved to capture key gender data, offer a key opportunity for companies to get better information on women in their value chains.
Source: UK Aid
UN: New podcast – Laying Down Tracks
The UN Food Systems Summit and Sourcing Matters have launched a new 8-part podcast miniseries, "Laying Down Tracks". Episodes will feature world experts on issues related to world hunger, malnutrition, climate change, and more. The first three, available now, cover Food Access; Sustainable Consumption; and Nature-based Production. Listen at www.sourcingmatters.show
Source: UN Food Systems Summit
World's Indigenous peoples hardest hit by climate change
A UN Food Systems Summit brief co-authored by scientists representing the Association of International Research and Development Centers for Agriculture (AIRCA) reports that Indigenous peoples around the world – the guardians of traditional knowledge systems and underutilised, forgotten crops that may yet prove critical for global food security – are likely to be hit hardest by climate change. A CABI blog post provides a useful summary of the UN briefing. It points out that inhabiting marginal environments like arid and semi-arid plains, rainforests and mountains, Indigenous peoples have a wealth of traditional practices that should form an integral part of efforts to make the global food system more resilient to climate change and other threats.
Source: CABI blog post, 26 May
Africa-EU2> Team Europe mobilises to support African economies
On 18 May, European Commission President Ursula von der Leyen announced a Team Europe initiative in support of Africa's recovery from the Covid-19 pandemic. Working with African partners, the initiative will mobilise substantial financing and technical expertise from the European Union and its Member States, under a Team Europe approach, to address key bottlenecks that hold back young entrepreneurs and small business owners across Africa from starting or expanding their businesses.
The first of these Team Europe initiatives, "Investing in Young Businesses in Africa", will help MSMEs across the continent take off and create jobs. It will do this by increasing financial and technical support to small companies at pre-seed stage as well as to micro-companies; supporting access to finance for start-ups at seed and early stages, and supporting financial intermediaries, digital finance, the general entrepreneurial ecosystem and the investment climate.
The Team Europe approach is part of the wider Communication on its Global Approach to Research and Innovation, Europe's strategy for international cooperation in a changing world, adopted on 18 May. Through this strategy, the EU "aims to take a leading role in supporting international research and innovation partnerships, and to deliver innovative solutions to make our societies green, digital and healthy".
Source: European Commission press releases, 18 May
EU to deepen strategic relationship with the Horn of Africa
The European Council has affirmed the EU's commitment to give new impetus to its partnership with the Horn of Africa and establish a new strategy for the region. The strategy will aim at reinforcing a joint approach to democracy and regional peace and security, revitalising multilateralism and the rules-based international order, strengthening commitment to social and human development, boosting post-Covid socio-economic recovery and trade and regional integration. The strategy also aims at strengthening the partnership with the broader region notably the Red Sea, the Western Indian Ocean and the Nile.
Source: European Council press release, 10 May
OACPS in a globalised world
H.E. Georges Rebelo Pinto Chikoti, Secretary-General of the Organisation of African, Caribbean and Pacific States (OACPS), was invited to one of the first in-person meetings of the ACP Working Group of the European Council to make a presentation themed "The OACPS in a globalised world". During his presentation, Secretary-General Chikoti addressed three main areas: the entry-into-force of the revised Georgetown Agreement and its implications for the operations of the organisation; the new OACPS-EU Partnership Agreement which was initialled by the OACPS and EU Chief Negotiators on 15 April; and the OACPS of the future and its role on the international scene. Secretary-General Chikoti outlined his main areas of focus in the coming year, which included addressing, in a sustainable manner, the impact of the Covid-19 pandemic on OACPS Members, and the signing and operationalisation of the new OACPS Partnership Agreement.
Source: OACPS, 27 April
OACPS: Empowering MSMEs to build back better
To mark MSME Day 2021, the Organisation of African, Caribbean and Pacific States (OACPS) is hosting an online event, "Empowering MSMEs in OACPS countries to Build Back Better post Covid-19". For over a year, the entire world has battled the Covid-19 pandemic, and the Members of the OACPS have not been spared. OACPS Members have more than 50 million registered MSMEs, which represent around 90% of the entrepreneurial fabric and a share of employment that fluctuates between 50 and 70% across the six regions of the Organisation. Solving challenges related to the impact of the crisis requires coordinated efforts from various private and public sector stakeholders at national, regional and all-OACPS levels. To assist OACPS MSMEs to successfully navigate through the pandemic, the OACPS and the European Union have put in place a series of initiatives under the Joint Private Sector Development Strategy.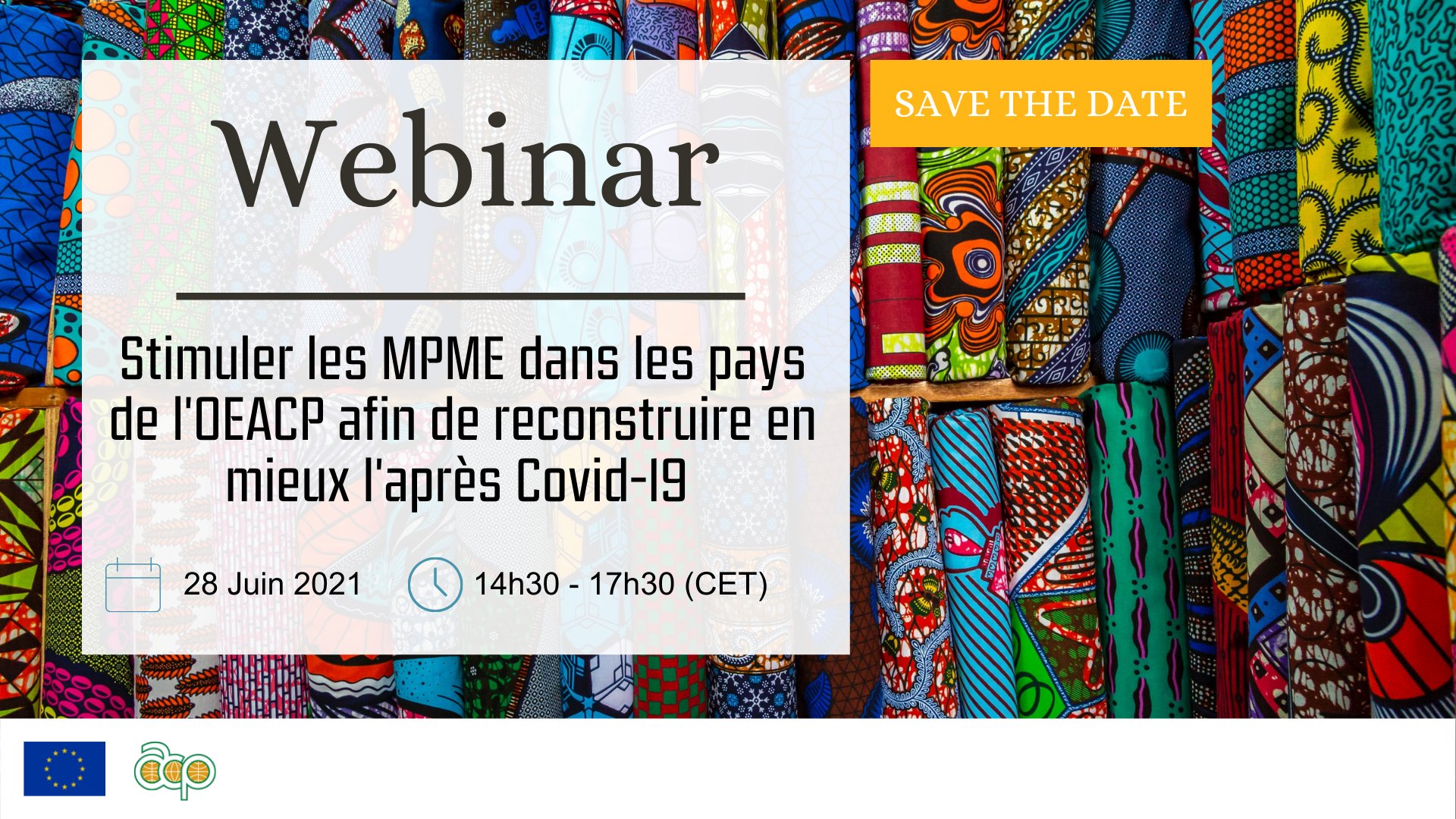 Save the webinar date: 28 June, 2–5 pm CET
Source: Business ACP, 21 May
Africa
African Ministers of finance and Central Bank Governors support integrated value chains for sustainable economies
African Ministers of Finance, Economic Planning, and Integration and Central Bank Governors have adopted rich recommendations that would enable the continent realise the vision of regional value chains that boost intra-African trade and enhance Africa's share of global trade. The recommendations reinforce the need for improved business and investment climate especially for SMEs to promote innovation through start-ups, investing in innovative business models and production revolution that diversify Africa's exports through sustainable value chains.
Source: AU press release, 25 May
How young people can lead Kenya's agribusiness transformation
Shujaaz Inc., a network of social ventures based in Nairobi and Dar Es Salaam that focuses on young people, has published a report: How young people can lead Kenya's agribusiness transformation. Engaging Kenya's young, digitally-native labour force will be essential to driving the agricultural transformation needed to feed future generations. But these interviews with more than 2,000 young Kenyans suggest that 15–24-year-olds, more than 36% of the working-age population, constitute only 5% of the core agricultural labour force. But there is cause for optimism: the Covid-19 pandemic has sparked a vital shift, as hundreds of thousands of young people have turned to agri-entrepreneurship to get by. As well as highlighting the needs for mentoring, up-skilling, access to finance and structural change, young people want to change the narrative – instead of "agriculture", which they associate with traditional, physical work and "failure", they prefer the word "agribusiness", which captures broader opportunities available for entrepreneurship, profit and innovation within the sector, and focuses on the future.
Source: Shujaaz Inc., Compass, 26 May
Cameroon: British investment in the cocoa and Penja pepper sectors
Cameroon's Trade Partnership Programme with the United Kingdom, piloted by the International Trade Centre (ITC), has had a budget of CFAF 1.1 billion (approx. €1.7 million) granted by the UK since the end of 2020. This programme aims to promote exports of cocoa and pepper from Penja to the British market. For several months now, ITC has been training cocoa and Penja pepper producers in good agricultural and packaging practices to access various markets such as the EU, the USA and the UK.
Source: Investir au Cameroun, 25 March
Southern Africa: Public–private sector partnerships for agricultural value chains
The South African Institute of International Affairs (SAIIA) has published a policy briefing, "Optimising Agricultural Value Chains in Southern Africa after Covid-19". It recommends that agricultural value chains in the SADC region should be geared towards creating opportunities both for small-scale subsistence farming and large-scale, export-geared commercial farming, constituting a dual approach to agricultural development in the region. Governments and the business sector should form public–private sector partnerships to develop resilient infrastructure for the agricultural sector, including the adoption of climate-smart technologies. Various activities in SADC agro-value chains should be digitalised to ensure more effective interactions between farmers, input suppliers, transport and logistics service providers, financiers and other value chain partners. And priority should be given at government level to concluding outstanding issues relating to the implementation of the African Continental Free Trade Area (AfCFTA).
Source: SAIIA, May
Caribbean
Jamaica seeks public–private partnerships for agriculture development
The Government of Jamaica has announced plans for public–private partnerships while demonstrating its commitment to agriculture development with substantial investment. Among other initiatives, the Government has established a Soil Health Committee at the Ministry of Agriculture and Fisheries; will invest $650 million to rehabilitate farm roads across the island this financial year; and is embarking on a US$1.05 million (approximately $157 million) Agri-Business Cold Chain project for Jamaica (ABC Jamaica).
Source: CNG Media, 15 May
Europe
EC: New genomic techniques have potential for sustainable agriculture
A new European Commission study on new genomic techniques (NGTs) says that these techniques to alter the genome of an organism have the potential to contribute to a more sustainable food system as part of the objectives of the European Green Deal and the Farm to Fork strategy. At the same time, the study finds that the current legislation on genetically modified organisms (GMOs), adopted in 2001, is not fit for purpose for these innovative technologies. [Whereas NGTs refer to editing the existing DNA within an organism, in GMOs a preferred gene is taken from one organism and introduced into another.] The Commission will now start a wide and open consultation process to discuss the design of a new legal framework for these biotechnologies.
Source: EC Press Release, 29 April
European Commission aims for zero pollution in air, water and soil
The European Commission has adopted the EU Action Plan: "Towards Zero Pollution for Air, Water and Soil", a key deliverable of the European Green Deal and the main topic of this year's EU Green Week (1–4 June). It sets out an integrated vision for 2050 – a world where pollution is reduced to levels that are no longer harmful to human health and natural ecosystems, as well as the steps to get there. The plan ties together all relevant EU policies to tackle and prevent pollution, with a special emphasis on how to use digital solutions to tackle pollution. The Action Plan sets key 2030 targets to reduce pollution at source, including "improving soil quality by reducing nutrient losses and chemical pesticides' use by 50%".
Source: EC press release, 12 May
Freshfel: The importance of boosting fresh produce consumption and trade
On 20 May Freshfel Europe hosted its Annual Trade Meeting online for members. During the meeting the Freshfel Europe Secretariat provided an evaluation of long- and short-term global trade figures for the fresh fruit and vegetables sector. The analysis of global produce trends showed a positive development for both European and international trade of fresh produce, with global fresh produce trade reaching €100 billion in 2020. Global volumes of fruit and vegetable trade have followed a downward trend since a peak in 2018, down to 87 million tonnes of global trade in 2020, a tendency explained as an overall deceleration in growth of booming categories, now accentuated by Covid-19 pandemic disruptions. Freshfel Europe General Delegate Philippe Binard noted that the sector must "raise its voice in the coming years about the importance of boosting fresh produce consumption and trade to attain the UN Sustainable Development Goals and the European Green Deal's objectives, especially in relation to a move towards more sustainable, plant-based diets. […] The sector has a responsibility to continue positioning itself in the circular economy debate and to stress the importance of both local and European production and international supply to secure year-round, diverse and sustainable fresh produce availability for European consumers."
Source: Freshfel press release, 20 May
EUFIC launches Europe-wide interactive fruit and vegetables map
The European Food Information Council (EUFIC) has launched the first-ever Europe-wide fruit and vegetables seasonality interactive map. The tool features over 200 seasonal fruits and vegetables, covers 24 countries, and includes the six European climate regions. Initially launched in English, it will also be available in French, German, Italian and Spanish. The EUFIC map aims to raise awareness on the nutrition and health benefits of fruit and vegetable consumption.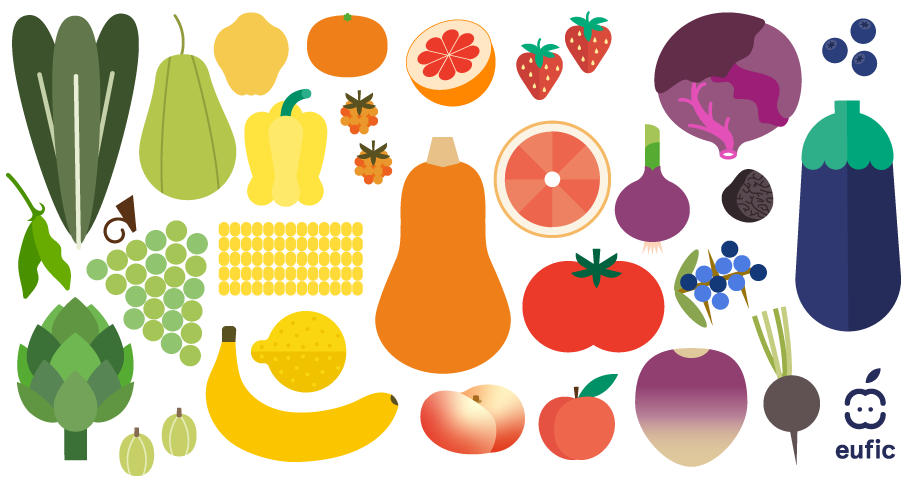 Source: EUFIC, 23 March