New Training-of-Trainers in Crop Protection for Kenyan experts
16/12/2021
Posted by:

Sandra Borma

Category:

Africa, Kenya, News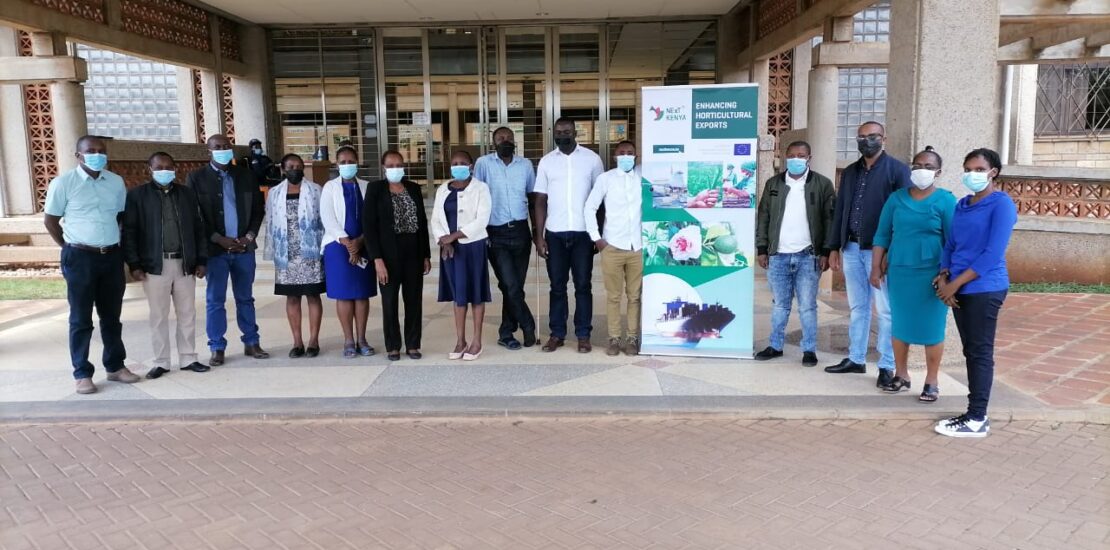 Due to the high demand for locally available technical expertise, NExT Kenya has launched a training-of-trainers cycle to build the capacities of a new group of Kenyan experts in COLEACP's training methodology. The training-of-trainers will focus on learning and communication techniques on crop protection decision-making, scouting, application of control methods, and Field Training Workshops – a specific method to pass on key messages to workers and small-scale farmers.
The training consists of preparation through an online learning platform, followed by face-to-face training. The first sessions took place in November–December 2021.
Kenyan fruit and vegetable producers working with the EU-funded NExT Kenya programme often require capacity building and technical assistance in pest and disease management, one of the main causes of pre- and post-harvest losses. Specifically, local expertise is needed to implement training-of-trainers activities related to crop protection decision making and practice, including:
Assessing the robustness of current pest and disease management strategies
Crop production protocols relating to plant health compliance (roses, mango, avocado, etc.)
Pest and disease identification, crop scouting, monitoring methods and tools
Setting up an integrated pest and disease management strategy, including methodology and equipment, tools, and cost benefit calculations
Training-of-trainers for extension staff, crop scouts and farmers on recognising and monitoring pests and diseases
Data analysis for monitoring and application thresholds, and how these inform decision making processes
Selecting the best suitable crop protection methods, focusing on integrated pest management (IPM)
Understand the risks involved in using crop protection products
Training spray operators on safe applicationand best pesticide use practices
Depending on the company's operational model and the number of crop scouts, outgrowers and spray operators involved, most of these activities target the individual in charge of crop protection decision making, and of training and monitoring spray operators. These people will become internal trainers to train crop scouts and spray operators, applying the distinctive cascading training system of COLEACP and its programmes. For the key messages to be conveyed to these end-target groups, training tools and methodologies, including the Field Training Workshops method, are provided to support senior staff to train their crop scouts and spray operators.
The capacities of local experts have been strengthened for over 20 years through the financial support of the European Union programmes. One of the major outcomes has been the creation of a pool of experts who have become "master trainers", capable of training other Kenyan or ACP consultants on technical topics, training and communication techniques and the use of existing training tools.
This activity is implemented by COLEACP and supported by the NExT Kenya (New Export Trade) programme, established in collaboration with the EU Delegation in Nairobi and Kenyan stakeholders.