New market study analyses trends and potential for ACP-Caribbean horticulture
28/04/2022
Posted by:

Gaetan Dermien

Category:

Caribbean, News
This new market study, researched and published by COLEACP's Market Insights service through the Fit For Market and Fit For Market SPS programmes, provides a detailed overview of the current situation and potential for development of the fruit and vegetable sector in ACP countries in the Caribbean region.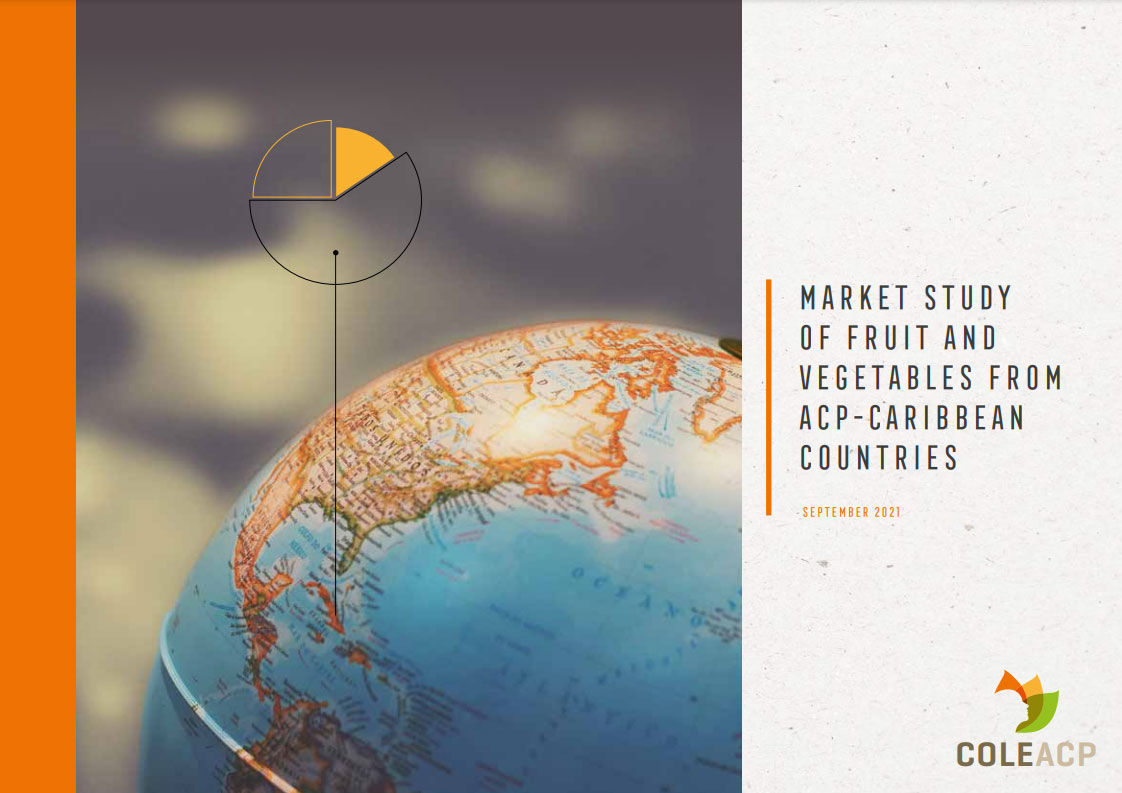 The study includes a comprehensive analysis of import and export flows with the main trading partners of the ACP Caribbean countries, and is also a marketing tool to assist exporters and importers aiming to look for new market opportunities.
COLEACP members and partner-beneficiaries can read the full study here.
Despite the context of extreme weather events, pest and disease outbreaks (particularly affecting citrus), the COVID-19 crisis, and Brexit, over the past decade the horticultural sector registered a notable 28% growth in production to reach a volume of 18,541,000 tonnes, with Grenada, Guyana and the Dominican Republic registering the strongest growth trends. Organic agriculture is growing, with the Dominican Republic leading the way, and there is still untapped potential to develop large-scale organic production, for example in Guyana and Suriname.
In press
Our latest publication, "Market study of fruit and vegetables from ACP-Pacific countries", is in production and will be available soon at eservices.coleacp.org
Local markets are very important for horticultural produce, and links with the tourism and food industries are key. However, Caribbean countries are still flooded with imported processed food products. Some of these could be produced more locally, even on a small scale, by encouraging subsistence farming and permaculture.
Intra-Caribbean trade also has room for development, especially as regional agreements have been signed to facilitate the flow of trade within the region.
Although exports have fallen over the past decade, an increase in overall domestic production has avoided a bigger growth of imports. The Dominican Republic currently leads exports of organic fresh fruits, especially bananas, and has excellent prospects with other produce such as avocados, mango and pineapple. Jamaica leads exports of roots and tubers, and also of value-added products such as sauces, which are entering the international markets. Many small companies are launching value-added products on the domestic market, while they are also looking at possibilities of exporting these products. With a Caribbean diaspora of almost 5 million people, the region has many ambassadors for its cuisine and products, which will encourage to the commercial development of the region's fruit and vegetables.
Coming up next
New studies from Market Insights in 2022, published through the Fit For Market Plus programme, will include:
Market studies on processed fruit and vegetables; and on organic agriculture
A sector study on mango products
Market profiles on root and tuber flours and sweet potato products

Market Insights will present the results of these studies in various webinars. Stay tuned!
The Caribbean market study was supported by the Fit For Market and Fit For Market SPS programmes, implemented by COLEACP within the Framework of Development Cooperation between the Organisation of African, Caribbean and Pacific States (OACPS) and the European Union. Fit For Market is co-funded by the French Development Agency (AFD).
Future market studies and profiles will be produced through the Fit For Market SPS and Fit For Market Plus programmes.