Launch of FFM+ in Togo
20/12/2022
Posted by:

Gaetan Dermien

Category:

News, Togo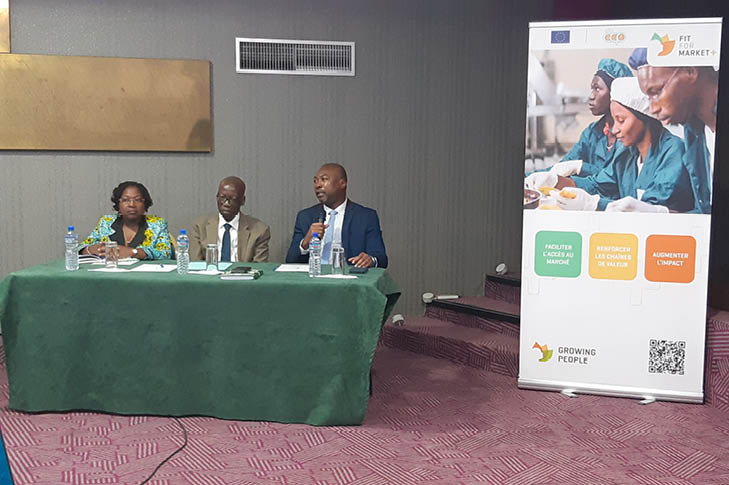 On 20 October 2022, in collaboration with the Ministry of Agriculture, Livestock and Rural Development of Togo, COLEACP organized the closing workshop of the "Project to strengthen the phytosanitary control and certification system for fruit and vegetable sector of Togo – STDF/PG/375" funded by the Standards and Trade Development Facility (STDF). The same event hosted the launch of the new FFM+ programme in Togo.
The STDF/PG/375 project ran for 4 years, from 2018 to 2022. The project made it possible to strengthen the framework and capacities of the services involved in inspection and control, public and private extension services, professional organisations and private operators. As a result of this work, fruits and vegetables from Togo should now have better access to markets (local, regional and international) with a notable reduction in quarantine pests.
The FFM+ programme, which is a continuation of the FFM and FFM SPS programs, will consolidate the achievements made during the implementation of the STDF/PG/375 project and further strengthen Togo's horticultural sectors.
FFM+ is a 5-year, €25 million programme, financed by the EU and the Organisation of African, Caribbean and Pacific States (OACPS), that aims to mitigate the impacts of the COVID-19 pandemic by strengthening the sustainability of the African, Caribbean and Pacific horticultural sector. It aims to maintain and improve the capacity of smallholders, farmer groups and horticultural MSMEs to access domestic, regional and international markets through the progressive sustainable intensification of the horticultural sector, while adapting to changes in their operating environment due to COVID-19 and climate change.
This activity is supported by the Fit For Market+ programme, implemented by COLEACP within the Framework of Development Cooperation between the Organisation of African, Caribbean and Pacific States (OACPS) and the European Union.