INTERNATIONAL WOMEN'S RIGHTS DAY 2022
08/03/2022
Posted by:

Gaetan Dermien

Category:

ACP EN, News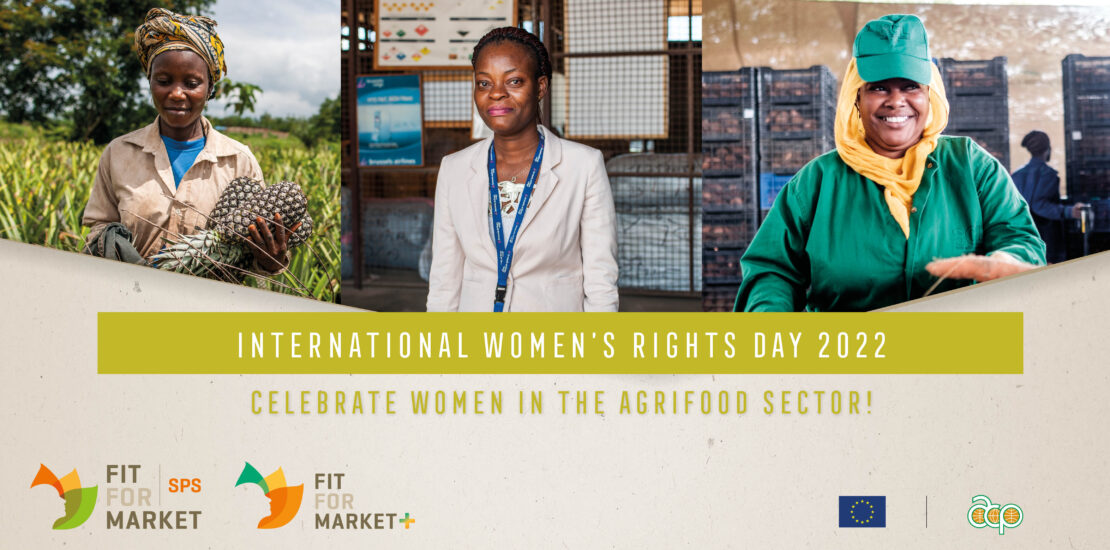 Celebrate women in the agrifood sector!
Worldwide, about a third of established businesses are women owned and managed.1 Sub-Saharan Africa has of the highest rates of women's entrepreneurs.2 Latin America and the Caribbean region show a high rate of women entrepreneurs involved in high-growth activity and manufacturing and transportation sector, half of them being under the age of 35.3 Women are a significant entrepreneurial force as owners of farms, input supply stores, service delivery businesses, and processing and export firms whose contributions to local, national, and global economies have significant impact on poverty-reduction, employment creation and wellbeing of rural communities and society at large.
Women are the main drivers of the global food production4 but still face too many challenges in finding jobs in the formal economy or starting and developing businesses, due to insufficient conducive policies and norms, low rates of land ownership, as well as access and control over resources and limited access to credit.
Gender equality and sustainability are intertwined, thus reducing the gender gap remains a key priority for effective change. Empowering women can have more direct positive impacts on the nutrition of their families. Women's empowerment is a pathway by which nutrition sensitive programmes could improve children's nutritional status. Empowering women benefits them, their families, and the overall economy.5
Moreover, supporting women entrepreneurship across the value chain is one of the most powerful routes to promote agriculture, agribusiness and boost sustainable rural development. To respond to highly competitive markets in local, regional and export markets and capture gains in value-addition activities, women entrepreneurs need more training and skills in business management, marketing and digital skills along the value chain with an emphasis on growth sectors, green technologies and safe and sustainable farming and agro-processing practices.
COLEACP with the Pan-African Farmers' Organization (PAFO) and the Inter-American Institute for Cooperation on Agriculture (IICA)* support women entrepreneurship through farmers' organisations, cooperatives, as well as micro, small and medium enterprises (MSMEs) respectively in Africa and in the Caribbean region to seize opportunities in new markets and to establish key partnerships to strengthen their competitiveness.
Celebrate with COLEACP, PAFO and IICA amazing women entrepreneurs and their success stories!
Below a snapshot of some amazing women entrepreneurs featured in our Innovations and Caribbean Agrifood Business sessions*.
You want to join our coming sessions and work with us? Contact us at: entrepreneursacp@coleacp.org.
*The PAFO-COLEACP Innovations Sessions and the IICA-COLEACP Caribbean Agrifood Business Sessions respectively focus on innovations and successes of African and Caribbean farmer-led businesses and SMEs. These activities are supported by the Fit For Market SPS and Fit For Market Plus programmes, implemented by COLEACP within the Framework of Development Cooperation between the Organisation of African, Caribbean and Pacific States (OACPS) and the European Union.
1 GEM. Women's Entrepreneurship 2020/21: Thriving Through Crisis. 2021, page 15.
2 Ibid., page 19.
3 Ibid., page 18 and 68.
4 UNDP, Gender And Climate Change – Gender, climate change and food security, 2016.
5 GAIN. Empowering women throughout the food supply chain, 2020.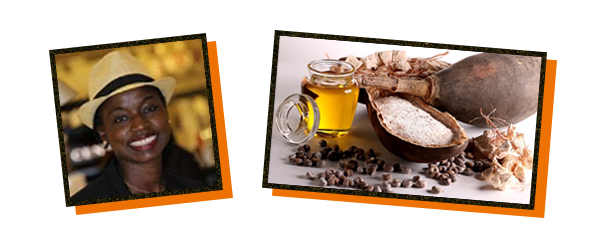 Adama Mbaye, CEO, BAONANE, Senegal, offers a range of baobab-based products such as fruit pulp, powder, leaves, seeds and baobab oil, as well as hibiscus flowers, local cereals, poultry and livestock feed. Baonane supports a fair, social and sustainable agriculture to contribute to the development of the agricultural and agri-food sector by producing high-quality (organic) products and ensuring food safety.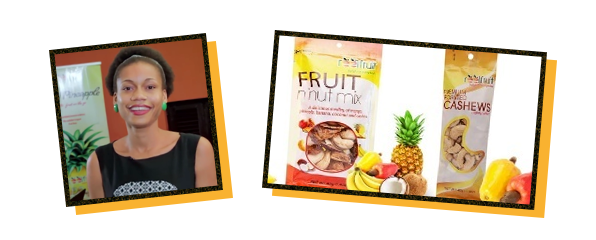 Affiong Williams, CEO, Reelfruit, Nigeria, creates new value chains by processing fresh fruit in value-added convenient products, like snacks, and by building its own network for distribution. The processed mangoes, pineapples, coconuts, bananas and plantains are distributed in local and export markets, including through Amazon.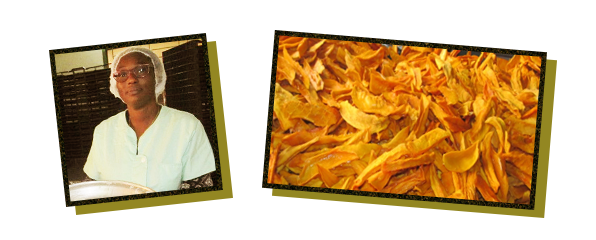 Alice Riouall, Founder & CEO, Mango So, Burkina Faso, processes fresh mango and coconut into organic and Fairtrade-certified dried mango and coconut chips, which are mainly exported to international markets, mostly to France and Germany. Mango-So constantly anticipates and develops products adapted to specific markets, such as mango jam and mango sirop for the local market.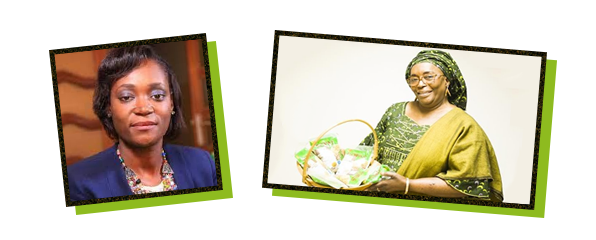 Awa Caba, Co-Founder & CEO, Soreetul, Senegal, has developed the first Senegalese digital platform that sells more than 400 processed agricultural products and cosmetics from 10 different categories (such as cereals, juices and teas). Soreetul is strongly committed to women's empowerment and promoting business initiatives.

Bertille Guèdègbé Marcos, Founder & CEO, Les Jus Tillou, Benin, created in 2000 a family business producing fresh pineapples and processing them into organic juice and dried fruit. These quality products from an environmentally friendly agriculture are exported to Europe. With the recent acquisition of a packaging facility, pineapple juice will also be supplied to the local market.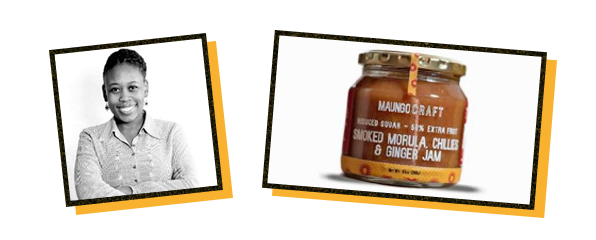 Bonolo Monthe, Co-Founder & Managing Director, Maungo Craft, Botswana, upcycles indigenous fruit (orphan crops) such as morula, that would otherwise be wasted, to produce jams, sauces and syrups. The company works closely with farmers, cosmetic processors and local communities, creating new value chains between those actors and promoting the growth of their industries at the same time.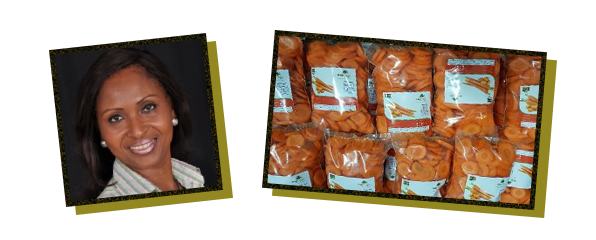 Catherine Krobo Edusei, Founder & Managing Director, Eden Tree Limited, Ghana, promotes healthy eating habits since 2016 when she launched her company. Eden Tree Limited produces, adds value, packages and markets high-end fresh vegetables, fruit and herbs, as well as convenient food, which are exported within West Africa.

Danielle Thomson, Founder & CEO, THERAPY, Jamaica, produces balanced, nutrient-rich, vegan, sugar-free and preservative-free products, made from local organic fruit and vegetables grown by a network of Jamaican organic farmers. THERAPY supports organic farmers and sustainable farming, as well as raises awareness on the importance of growing organically and maintaining seasonal supply of the products.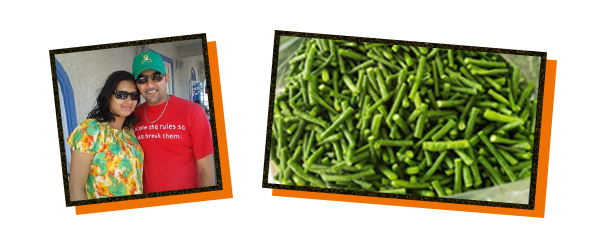 Diana Persaud, Co-Founder & Managing Director, Arya's Fresh Cut, Guyana, has established an organic farm based on the "farm to doorstep" concept which ensures food safety and quality. Arya's Fresh Cut is Guyana's first online store with a wide produce range of fresh fruit and vegetables.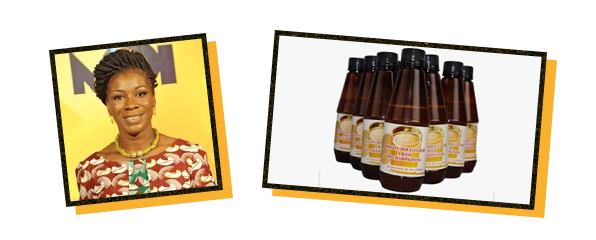 Elmine Kouyaté, Founder & Managing Director, Axxiom, Côte d'Ivoire, is involved in the entire mushroom value chain. Axxiom produces fresh mushrooms (mainly of the oyster variety) and processes them into dried mushrooms, prepared meals, energy drink, as well as cosmetic products. The company also empowers local communities, especially women, and invested in seven mushroom farms run by women.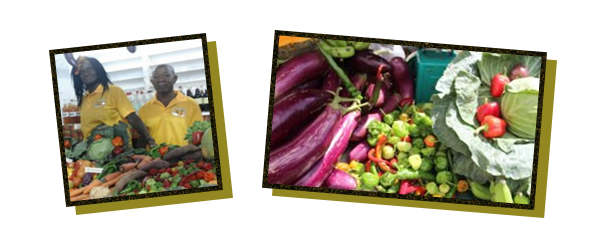 Emontine Thompson, President, Nevis Growers' Co-operative, St. Kitts & Nevis, has established a unified body of over 40 farmers and growers who produce a variety of fruit and vegetables for island-based hotels and restaurants. By supplying a specific market-led system, the Nevis Growers' Co-operative has established a strong agrotourism linkage with its member since its creations.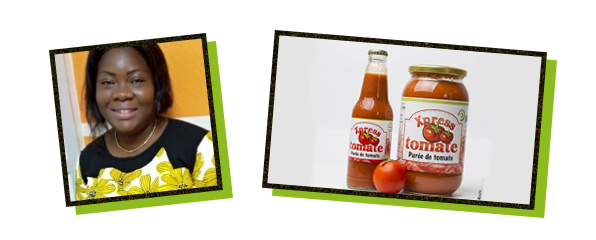 Euphrasie Dassoundo, Founder & General Director, Agro Xpress, Benin, processes fruit, vegetables and spices into purees and concentrates. By extending the shelf life of local production, Agro Xpress tackles the issue of post-harvest losses of Beninese producers and supports the social development of local communities.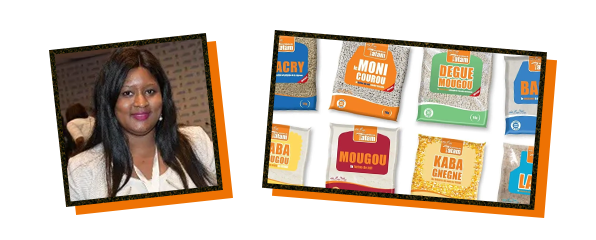 Halatou Dem, Director General, Les Céréales de TATAM SARL, Mali, produces and processes local cereals with high nutritional content such as fortified millet flour, precooked fonio, monicourou, diouka, etc. The healthy and ready-to-eat or -cook delicious traditional food products are consumed by the urban population across Africa, Europe and the USA.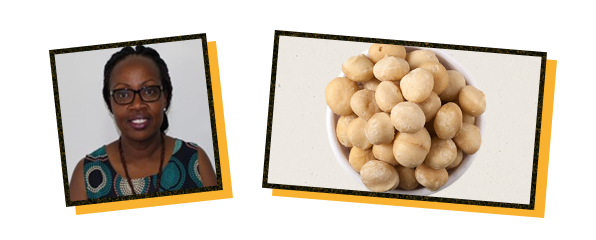 Jane Maigua, Managing Director, Exotic EPZ Limited, Kenya, works closely with 7,000 macadamia nut farmers across Kenya. Exotic EPZ Limited processes high-quality macadamia nuts in different sizes (wholes, halves, chips) and exports them to international markets, especially USA, Asia and Europe. The company supports its raw material suppliers, notably to sustainably produce by providing them with seeds and offering training.

Jolenta Joseph, Founder & CEO, Sanavita, Tanzania, addresses the high rates of malnutrition in Tanzania by adding value to crops such as orange fleshed sweet potato, bean and maize. Sanavita supports overs 1,500 smallholder farmers, offering them a reliable link to ready markets by buying and processing their produce into nutritious food products.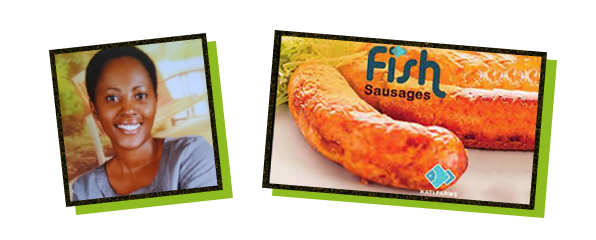 Lovin Kobusingye, Co-Founder & CEO, KATI FARMS (Uganda) LTD, Uganda, created the first agrofish-processing enterprise producing fish sausages in Africa. KATI FARMS (Uganda) LTD produces fish-based products such as sausages, samosas, fish powder, surimi etc. which are sold in Uganda and neighbouring countries to hotels, restaurants and supermarkets, as well as on the informal market.

Marie Ange Mukagahima, Founder & CEO, Zima Enterprise, Rwanda, processes pumpkin, an easy crop to grow in Rwanda, and its unused seeds into oil, cookies, roasted pumpkin seeds and flour. Zima Enterprise supports rural cooperatives of women farmers by ensuring a constant supply of pumpkins for processing and provides them with skills, tools and market awareness regarding their crops.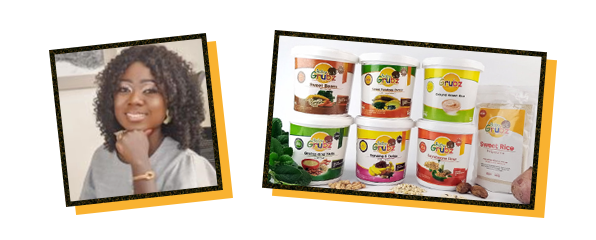 Oluwaseun Sangoleye, Founder & CEO, Baby Grubz, Nigeria, aims to reduce the high rates of malnutrition and poverty in Africa. She created Baby Grubz, an African pioneer company in training mothers about children's nutrition in addition to producing baby and infant food. The company manufactures packaged infant meals and snacks made from locally-sourced grains, fruit and vegetables which are distributed in Ghana, Togo and the United Kingdom.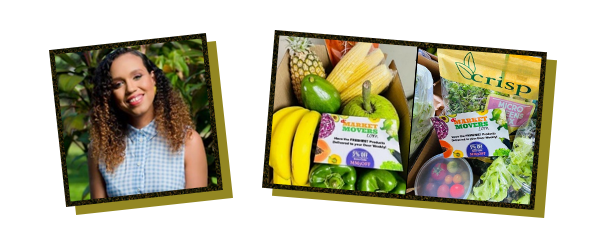 Rachel Renie, Co-Founder & Managing Director, D'Market Movers, Trinidad & Tobago, has co-founded the first online shop delivering fresh products in Trinidad & Tobago. The company works closely with a network of about 250 farmers and artisans to source local produce and create new opportunities for local agripreneurs.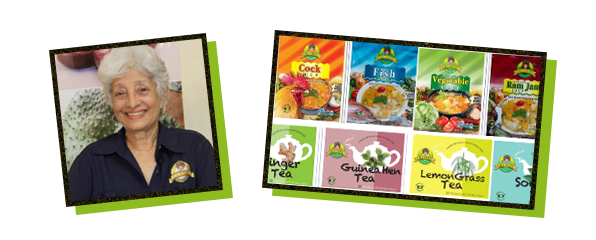 Rita Hilton, Founder & Managing Director, Carita Jamaica Ltd, Jamaica, has created a family business which distributes fresh Jamaican products and processes locally grown crops into frozen products, soups, and natural teas under the "Carita Premium" brand. The company promotes sustainable and healthy lifestyle, and aims to support local rural communities by offering them a sustainable income.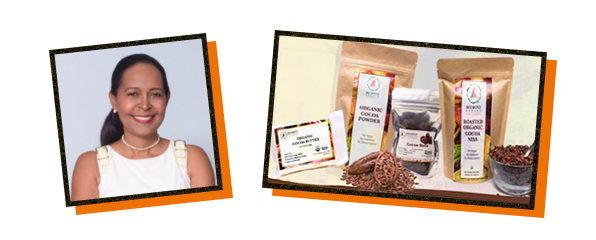 Shadel Nyack Compton, Managing Director, Belmont Estate Group of Companies, Grenada, has established an agritourism business which produces a wide range of products, including cocoa, spices (particularly nutmeg), fruit, vegetables, herbs and goat cheese. The agricultural estate integrates local culture, history, traditions and cuisine, and organises various interactive tours on its premises to showcase sustainable agriculture and tourism practices.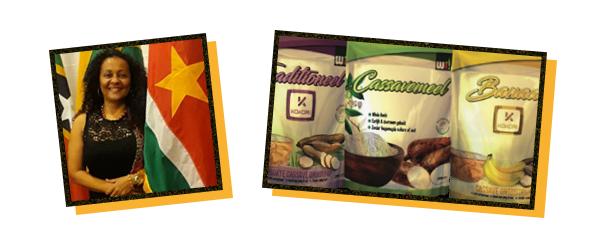 Tania Lieuw-A-Soe, CEO, SURIVIT N.V, Suriname, leads a pioneering social enterprise which produces high-quality products from fruit and cassava, such as flour, baby porridge, cassava pancakes mixes and cassava flakes, both for local and exports markets. SURIVIT N.V. educates and empowers women to learn all aspects of producing, value adding, food safety, product marketing and distribution.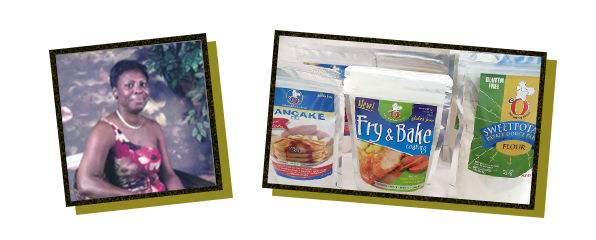 Theophilia Stoute, Founder & Managing Director, O's Inc., Barbados, produces organic and gluten-free products, such as flours, pancakes mixes, porridges, coatings and oils, made from locally grown fruit and vegetables. The products are available in supermarkets and convenient shops across Barbados.