INTERNATIONAL MSMEs DAY 2021
25/06/2021
Posted by:

Zuzana Majeska

Category:

Africa, Bananas, Caribbean, Cassava, Cocoa, Coconuts, Dasheen, Fish, Mangoes, News, Pacific, Sweet potatoes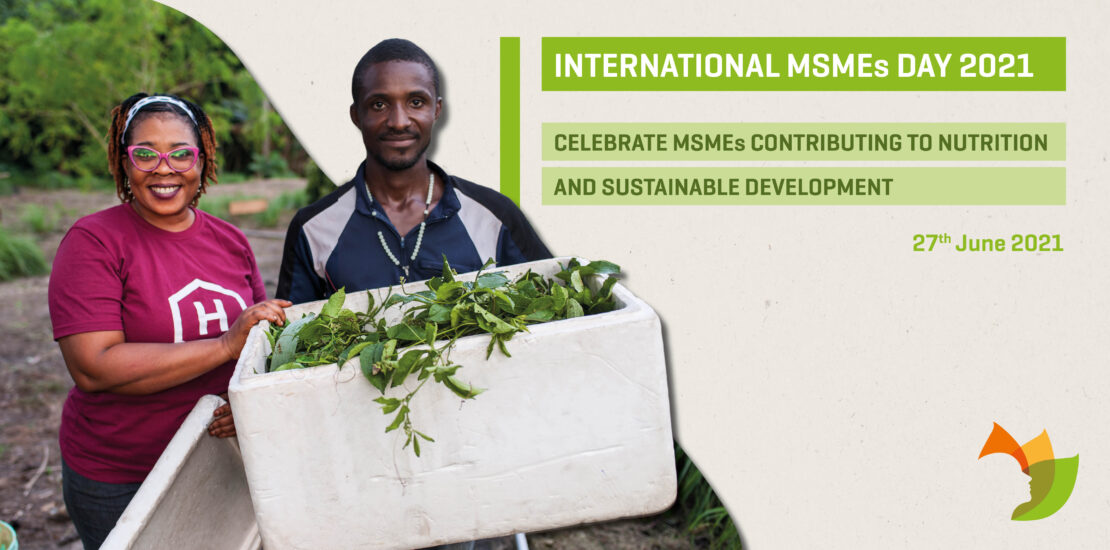 CELEBRATE WITH COLEACP MSMEs CONTRIBUTING TO NUTRITION AND SUSTAINABLE DEVELOPMENT FROM FARM TO FORK
Globally, Micro, Small and Medium Size Enterprises (MSMEs) which work themselves with millions of family farms, are of notable importance in securing food safety and nutrition of local consumers and communities, creating employment, enhancing skills, as well as promoting innovation and creativity towards sustainable food systems.
MSMEs respectively have less than 10, 50 and 250 employees but nonetheless provide great opportunities for job creation, especially for women and young. MSMEs are the backbone of most economies and play a key role in developing and low-income countries. They account for over 90% of all firms, for 70% of total employment and for 50% of the GDP worldwide.
Therefore, supporting MSMEs through their own formalization, formalization of their relationships with other actors of the value chain, participation and growth in domestic, regional and/or international markets, with access to skills, finances, technologies and innovation, is an important leverage to boost sustainable development.
As a non-profit association of private sector operators in the agrifood sector active in the European Union (EU), Africa, the Caribbean and the Pacific (ACP) regions, COLEACP supports entrepreneurship development and business growth in these regions, based on the economic, environmental and social pillars of sustainability. It offers technical assistance, capacity building, business contacts, and trade analysis among other support services to value chain actors, including to MSMEs, from different value chains with a special focus on fruit and vegetables as to promote agriculture, agribusiness and sustainability.
Meet and celebrate with us successful African and Caribbean MSMES which contribute to nutrition and sustainable development from fark to fork! The inspiring MSMEs stories, many of them members of COLEACP, have been featured in our Innovations Sessions co-organised by COLEACP and the Pan-African Farmers' Organization (PAFO) and in our Caribbean Agrifood Business Series, launched by the COLEACP and the Inter-American Institute for Cooperation on Agriculture (IICA).
From the field…
Arya's Fresh Cut – Guyana
Arya's Fresh Cut, is an organic business that provides consumers with fresh vegetables well packaged and of high quality enhancing healthy diets.
By preparing the vegetables, Arya's Fresh Cut aims to make life more convenient, especially for working families. The company grows crops, such as mint, kale, parsley, cilantro, butternut squash, Armenian cucumbers, lettuce, pok-choi, oregano etc; and also buys from local farmers.
The products are available on the domestic market (in local supermarkets and markets).
Service Commercial Silvain International SARL – Mali

Service Commercial Silvain International SARL (SCS International) is a company packing and exporting fresh mangoes. A part of the mangoes exported by SCS international are produced by around 300 contracted outgrowers. The company is internationally recognised for its exported fruit, which fully meets the requirements and quality standards to access high value markets. SCS International is also involved in the agrifood business import of fruit, vegetables and meat to Mali.
The SCS group owns other companies:  SCS FF PRODUCTION grows mangoes and secondary crops (mainly vegetables and other fruits for local markets) and SCS MALIENNE DE CARTONNERIE produces cardboard for packaging mangoes and also nonfood products such as cement.
The fresh mangoes are exported mainly to Europe (Netherlands, France, Belgium, etc) and partly to African countries (Gabon, Morocco, etc.).
From the tree…
ChocoTogo – Togo

ChocoTogo is a cooperative that supports the sustainable production of organic cocoa, including by preserving old cocoa varieties, and transforming cocoa into quality products. ChocoTogo's mission is to add value to Togolese (small) cocoa production by transforming cocoa into organic, fair trade, artisanal and local products and adding value locally. Among the wide range of processed products, the cooperative produces chocolate bars, some of which having for example original flavours such as baobab, moringa or turmeric. ChocoTogo also produces cocoa beans and chocolate paste.
ChocoTogo's products are available on the domestic market and sold in most supermarkets of the country. They are also exported to the EU.
Melach Coconut Processing Farm – Ghana

Melach Coconut Processing Farm (MCP) is a coconut processing company which sources coconut from local farmers (mostly women, many in a vulnerable situation) providing a variety of services to them.
MCP trades processed products under the product brand name "Ropheka" for the health & beauty sector, as well as the food and hospitality sectors. Its product range includes, among others, Ecocert Fairtrade-certified extra virgin cold pressed coconut oil, fresh coconut water, coconut porridge and organic coconut butter.
MCP supplies domestic, regional and international markets.
From the sea…
KATI FARMS (Uganda) LTD – Uganda

Kati Farms is the first agrofish-processing enterprise producing fish sausages in Uganda. The company is dedicated to helping local entrepreneurs build and grow successful fish businesses, many of them being women. It aims at adding value to local aquaculture products in order to make farming profitable and attractive for the present and the future generations.
Kati Farms' flagship product is the fish sausage made of locally-sourced tilapia. The further variety of fish and healthy products includes, among others, fish samosas, frozen and chilled fish fillets, fish powder, surimi, crude fish oil, fish meal.
Kati Farms' products are available on the domestic and regional markets (in hotels, restaurants and supermarkets).
…to processing…
BWANA Business Incorporated – Trinidad & Tobago

BWANA Business Incorporated (BWANA) is an innovative and value driven company which manufactures and distributes locally made frozen foods. It uses each raw material to its full potential under the motto "Where Eating Healthy, Tastes Great". The BWANA's products are 100% local, all natural and celebrate Trinidad's culture. They include frozen cubes of cassava, sweet potato, dasheen and coconut milk; frozen grated cassava, sweet potato, dasheen and coconut; frozen fries from cassava and sweet potato, as well as the Provision Melting Pot, the flagship product.
The products are available on the domestic market.
Stawi Foods and Fruits Ltd. – Kenya

Stawi Foods is a food processing company which aims at generating prosperity in Kenya for all stakeholders in the food industry supply chain (Stawi means prosperity in Swahili). Stawi Foods supports its local supplier farmers to access the market and produce food sustainably, while providing access to affordable nutritious food to low-income Kenyan families. The company processed seven nutritious, locally grown crops which are banana, amaranth, maize, finger millet, red sorghum, soy and wheat). Its product range includes pre-cooked, nutritious porridge flour made from ancient grains blended with bananas.
Stawi Foods are essentially distributed on the domestic market but the company also has a manufacturing contract with non-governmental organisations in Kenya.
THERAPY – Jamaica

THERAPY promotes a vegan plant-based lifestyle to provide the maximum benefit to our bodies and our planet with "Make Healthy Fun, Delicious & Convenient!" as its ethos. The company was created in 2015 and produces balanced nutrient rich, vegan, sugar-free and preservative-free products from local organic fruit and vegetables grown by a network of organic Jamaican farmers.
THERAPY provides a wide range of organic products, including herbal teas, cold pressed juices, shots, ice pops and detox packages which are available on the domestic market.
…to flavouring…
RHS Marketing Limited – Trinidad & Tobago

RHS Marketing Limited is a leading processor and distributor of premium quality sauces, seasonings, spices, condiments, drink, jellies, fruit cordials and essences in Trinidad. The company manufactures products under several brands, including Karibbean Flavours, Herreras, Rajapuri, Kitchmixx. The Karibbean Flavours brand was introduced in 1996 and is nowadays one of the best known and leading brands in the Caribbean.
The products are available on the domestic market (national grocery chains, hotels and restaurants), regionally (Caribbean) and internationally (US, Canada, UK), as well as on Amazon.
…to fork
ColdHubs Limited – Nigeria

ColdHubs Limited is a company providing breakthrough innovation to the local community and smallholder farmers. ColdHubs are solar-powered walk-in cold storage rooms for 24/7 cold storage of perishable foods, extending the shelf life of fruit and vegetables from two to 21 days. Users pay a daily flat fee of about US$0.50 per for each 20kg (44lbs) crate of food they store in the cold room.
ColdHubs Limited aims at contributing to achieve food security by preserving perishable products. The company is leading the market for innovative and affordable cold-storage solutions in Nigeria and plans to deploy ColdHubs all across Africa, starting with South Sudan, Sierra Leone, Liberia, Benin and Kenya.
MASSY Stores St. Lucia (Ltd) – St. Lucia
MASSY Stores (SLU) Ltd. is a corporate group which includes Supermarket, Pharmacy, Mega, Gourmet and Home stores. The MASSY Stores Supermarket chain offers a wide range of grocery options and convenience service, as well as delivery services. MASSY Stores Supermarket is St. Lucia's largest supermarket chain.
In the COVID-19 context, MASSY Stores Supermarket chain made a strong commitment to work closer with the local farmers, to help them transforming the sector and achieving some niche markets. Premium Corners at Massy Stores Supermarket also showcase locally produced crops in order to enhance the local consumption. Moreover, the company supports small and medium local food manufacturers which supply local products to the supermarkets.