IICA-COLEACP Caribbean Agrifood Business Series
15/09/2021
Posted by:

Sandra Borma

Category:

Caribbean
4–8 October 2021 is the Caribbean Week of Agriculture. To celebrate, the Inter-American Institute for Cooperation on Agriculture (IICA) and COLEACP are presenting the third Caribbean Agrifood Business session on Thursday 7 October, 10h00-12h00 EST.
The theme will be "Post-Covid-19: Building stronger links between agriculture and tourism – the key role of SMEs and businesses".
You can register here.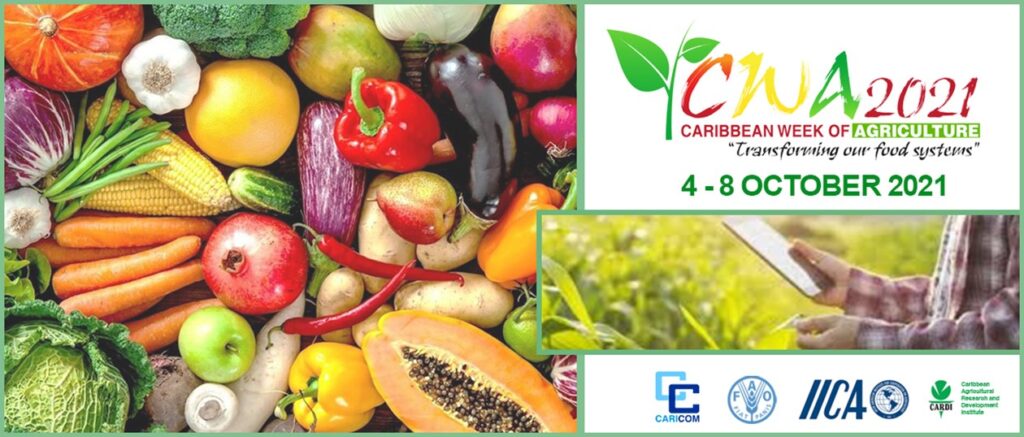 The online Caribbean Agrifood Business Series focuses on a range of topics including improved production, trade and competitiveness; food safety and quality; rebuilding tourism with increased links to agriculture; bioeconomy and green businesses; and regional logistics and efficiency in trade. Each session features impactful local businesses and MSMEs across the region, especially targeting local and regional markets, and will bring views from experts in finance, technology, policy and research.
The series provides opportunities to exchange ideas and best practices on priority issues; showcase successes of smallholders, businesses and MSMEs; promote forthcoming innovations and technologies benefiting smallholders and MSMEs; encourage networking among stakeholders in the food chain; and disseminate research findings.
The first Caribbean Agrifood Business session, on 9 June, focused on "Post-Covid-19: Resilience building and new opportunities for Caribbean businesses". Five inspiring businesses presented how they adapted to the Covid-19 context and repositioned themselves in new markets, or with new product lines. The event drew an audience of 292 participants, from the Caribbean plus Africa, the USA and the European Union.
Here you can view a summary of the session, as well as the agenda and the panelists' biodata. The PowerPoint presentations of the companies are also available – MASSY Stores (St Lucia), RHS Marketing Limited (Trinidad & Tobago), Arya's Fresh Cut (Guyana), Bwana Business Incorporated (Trinidad & Tobago) and THERAPY (Jamaica) – as well as a presentation by Jeanelle Murray Noel, expert at the Caribbean Export Development Agency.
Following the success of the first session, the second Caribbean Agrifood Business session, on 25 August, reunited 258 participants to discuss "Promoting bioeconomy and green businesses in the Caribbean: Opportunities for SMEs". Three impactful green companies shared their experiences.
Here you can view the agenda and the panelists' biodata. Founder and COE Johanan Dujon presented how Algas Organics (St Lucia) maximises crop performance by processing the invasive seaweed Sargassum into organic agricultural inputs, creating local employment. Gustavo Gandini shared the success of organic fairtrade bananas produced and exported by Banelino (Dominican Republic), and how a fair and carbon-neutral value chain are fundamental sustainable pillars of new-generation farmers. Co-founder and CEO Nigel Jordan presented Twigs Naturals (Trinidad & Tobago) and its 100% natural herbal teas packaged in recyclable, resealable and reusable packaging which is fit for exports. As the development of the bioeconomy further requires funding resources to develop an innovative product, a behavioural change and policy measures to raise consumers' awareness about circular economy practices and products, experts Ricardo M. James (OECS), Guy Faure (European Commission) and Guillaume Simões (EDFI AgriFI) presented their insights too.
This activity is supported by the Fit For Market programme, implemented by COLEACP within the Framework of Development Cooperation between the Organisation of African, Caribbean and Pacific States (OACPS) and the European Union, and co-funded by the French Development Agency (AFD).