IICA and COLEACP promoting entrepreneurship in the Caribbean
19/04/2021
Posted by:

Zuzana Majeska

Category:

Caribbean, News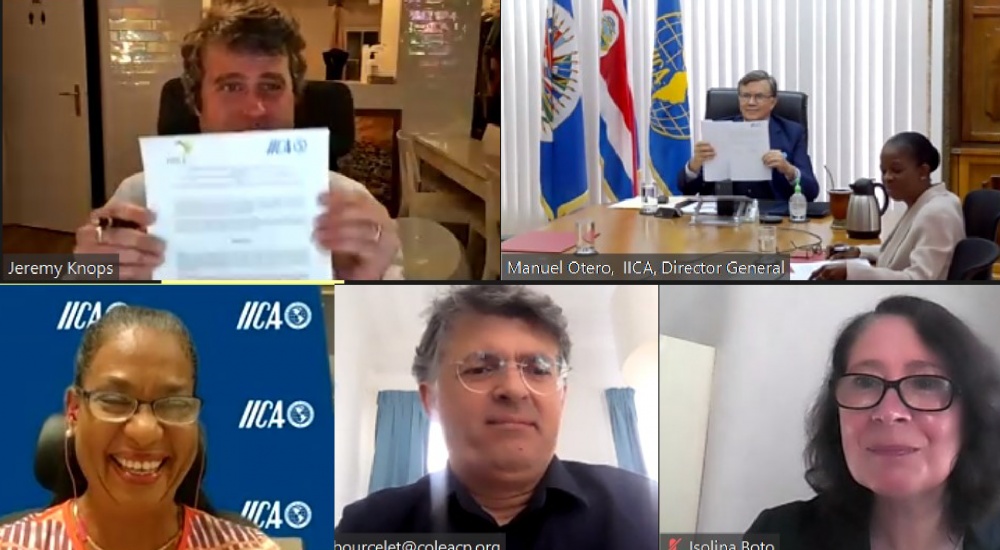 On 8 April the Inter-American Institute for Cooperation on Agriculture (IICA) and COLEACP signed a technical cooperation agreement to work to develop a more sustainable and resilient agriculture sector in the Caribbean region. The agreement was signed during a virtual ceremony by Manuel Otero, Director General of IICA, and Jeremy Knops, General Delegate of COLEACP.
Sustainable agriculture, good practices, bioeconomy, trade, food safety and quality, resilience, and the link between agriculture and tourism will be some of the key focus areas for collaborative efforts.
IICA Director General Manuel Otero said that "We must not concentrate solely on a response to the pandemic, but must also focus on building agricultural resilience and sustainability in our countries. IICA stands ready to play a more proactive role and to work tirelessly, ever mindful of our farmers." He went on to state that the global south "needs to build a new future, by interconnecting regions, actors and ideas, and by progressing and implementing concepts such as Caribbean regionalism, agrotourism, the bioeconomy, international trade, youth inclusion and technology transfer."
IICA is the specialised agency for agriculture in the Inter-American system, with a mission to encourage, promote and support its 34 Member States in their efforts to achieve agricultural development and rural wellbeing through international technical cooperation of excellence.
See the full IICA press release here.