Fruit Attraction 2021: Fit For Market support for COLEACP members and partners
25/10/2021
Posted by:

Zuzana Majeska

Category:

Africa, Caribbean, News, Pacific
From 5–7 October COLEACP, partner-beneficiaries from programmes and members took part in the trade fair Fruit Attraction 2021. The B2B event was a hybrid – both in-person and online – for the first time in 2021, presenting opportunities for more ACP horticultural businesses to take part. Exhibitors participated in-person with a stand, online through the LIVEConnect platform, or through a combination.
This year the online platform LIVEConnect will remain open to bring the fruit and vegetable community together all year round, providing a meeting point for all professionals in the sector. It offers a space for networking, education and training, and promotion, and helps companies to make contacts and identify business opportunities.
In 2021, for the first time, Fruit Attraction was held together with Fresh Food Logistics, an international fair for logistics, mobility, IT and cold chain management for fresh food.
The key themes of the moment, tech and bio, were highlighted with a hall devoted to Biotech Attraction, and the hosting of the 4th Biofruit Congress. The Congress focused on the demand for sustainability, and there was a strong display of organic produce on many stands. The in-person event attracted 1,300 exhibitors from 43 countries. Overall (both in Madrid and online) the event attracted 65,000 participants from 108 countries. The list of exhibitors can be viewed here.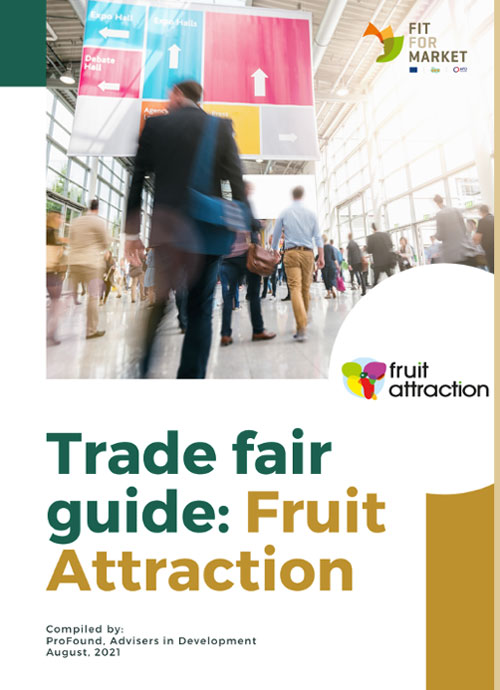 Before the event, ACP businesses participated in coaching supported by the Fit For Market programme. 14 French-speaking participants from 12 companies, and 34 English-speaking individuals from 19 companies plus four business management organisations, took part in coaching on how to get the best out of the trade fair. The training and coaching was delivered remotely. We also invited 80 companies to take part in Fruit Attraction and offered them support to to log onto the platform.
For COLEACP's programmes' partner-beneficiaries and members considering attending trade events, either in-person or online, new trade fair guides are available providing details about the main events, the business opportunities they present, the costs involved, and how visitors and exhibitors can maximise the value they gain from taking part.
These activities are supported by the Fit For Market programme, implemented by COLEACP within the Framework of Development Cooperation between the Organisation of African, Caribbean and Pacific States (OACPS) and the European Union, and co-funded by the French Development Agency (AFD).