Côte d'Ivoire: Improving social practices at SCOPACI-SCOOPS
08/10/2021
Posted by:

Sandra Borma

Category:

Côte d'Ivoire, News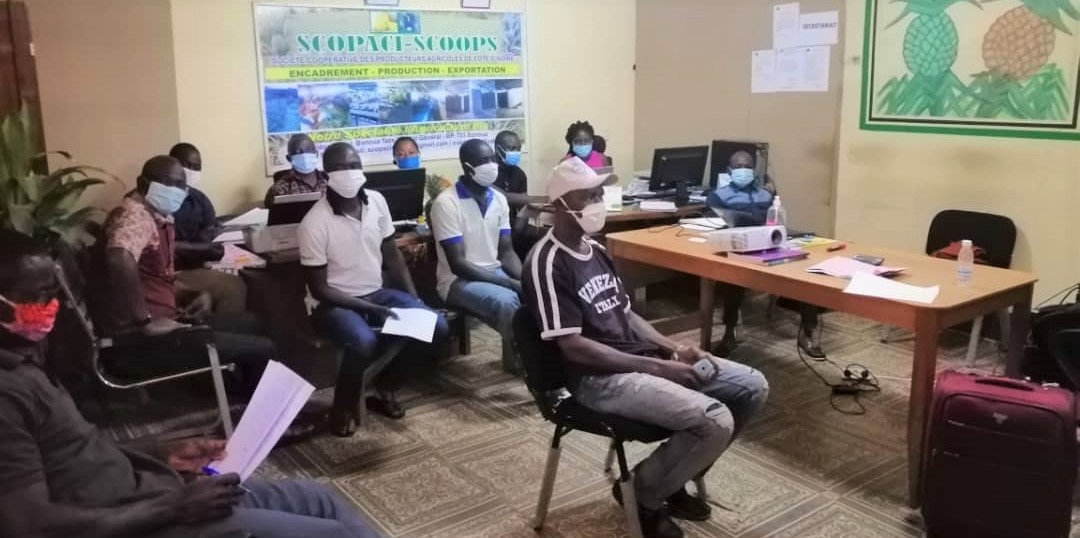 Since the collapse of the pineapple market in Côte d'Ivoire, producers have seen their earnings drop considerably. To improve the income of the country's producers and all stakeholders in the value chain, the SCOPACI-SCOOPS cooperative, created in 2015, obtained certification in 2019 for organic farming, GLOBALG.A.P. (a set of standards for Good Agricultural Practices; with the support of COLEACP's Fit For Market programme) and GLOBALG.A.P. Risk Assessment on Social Practice (GRASP).
Also through its Fit For Market programme, COLEACP supported the cooperative in achieving Fair for Life certification in January 2020, thus ensuring fair and equitable working conditions for all its members and employees. Thanks to its commitment to Fair for Life certification, SCOPACI-SCOOPS has been able to distinguish itself from other operators in the area, where women may be paid 20% less than men. Since May 2021, the cooperative has raised the salaries of women to the same level as those of men. A system of paid leave has also been put in place.
This activity is supported by the Fit For Market programme, implemented by COLEACP within the Framework of Development Cooperation between the Organisation of African, Caribbean and Pacific States (OACPS) and the European Union, and co-funded by the French Development Agency (AFD).