Companies promoting the circular economy and reducing food waste
20/12/2022
Posted by:

Gaetan Dermien

Category:

Africa, Angola, Benin, Botswana, Burkina Faso, Burundi, Cameroon, Chad, Côte d'Ivoire, Democratic Republic Of The Congo, Djibouti, Eritrea, Eswatini, Ethiopia, Gabon, Gambia, Ghana, Guinea, Guinea-Bissau, Kenya, Lesotho, Liberia, Madagascar, Malawi, Mali, Mauritania, Mauritius, Mozambique, Namibia, News, Niger, Nigeria, Republic of the Congo, Senegal, Sudan, Tanzania, Togo, Uganda, Zambia, Zimbabwe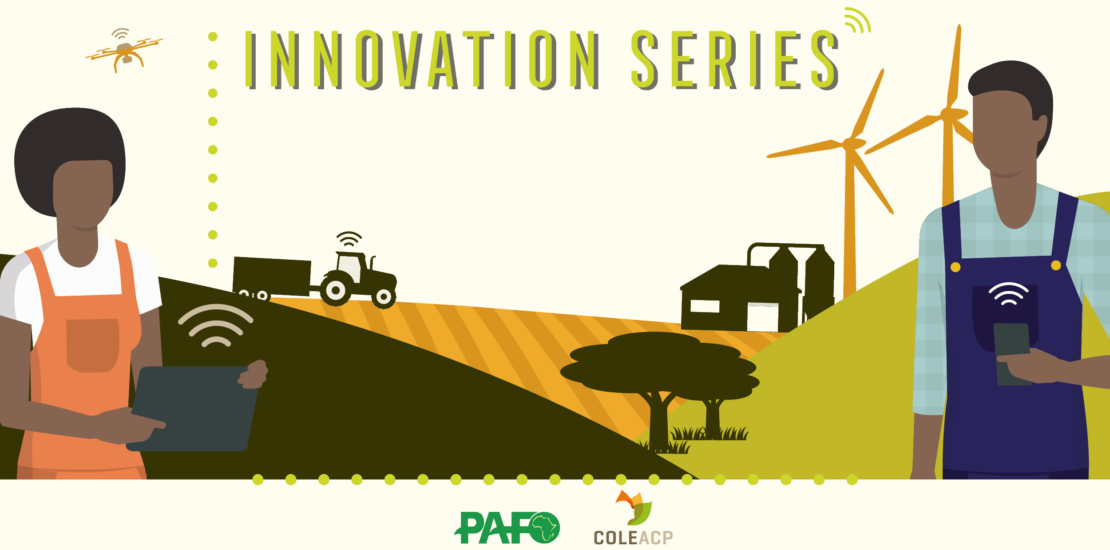 On 28 November 2022, during the 11th Innovations Session organised by the PAFO and COLEACP, inspiring African companies demonstrated how their businesses based on the circular economy contribute to reducing food loss and waste (agenda ; speakers' biodata). The online session was attended by over 170 participants from Africa, the Caribbean region and Europe.
The recording of the session is available on COLEACP's YouTube channel.
The growing global population requires increased food production levels to address food and nutrition security while reducing negative environmental impacts such as soil and water degradation, greenhouse gas emissions and loss of biodiversity. During the Innovations Session, six entrepreneurs explained the critical contribution of the circular economy to feeding the population – without destroying the planet and its resources.
Rose Noah, CEO of Ghanaian biotech firm West African Feeds Ltd., described how the company uses black soldier fly larvae to valorise food waste. Through this process, the company converts bio-waste into valuable inputs for Africa's livestock industry, including organic fertiliser, insect-based animal feed, animal nutrition, compost and hygiene products.
Fatou Titine Cissoko, founder and manager, explained how Guinea-based company Enterprise Fatou & Kadija reduces post-harvest losses by producing 100% natural, preservative-free dried pineapples, dried mangoes and natural juices that are sold on both national and international markets under the brand Jedengui.
Co-founder Amogelang Shaun Masi presented Viva Organica, a company in Botswana that transforms kitchen waste and animal manure into highly nutritious, 100% organic natural farming inputs rich in nutrients and pro-biotics. The products improve soil moisture and overall soil health, enhancing the climate resilience of farming communities, and have reduced the cost of fertiliser by 25%.
Founded in 2019 by Mark Musinguzi, Hya Bioplastics upcycles local food waste from a range of flexible plant fibres to create 100% home compostable products including fruit and vegetable trays, takeaway food boxes and disposable plates. The company provides a cost competitive alternative to plastics, while also creating additional revenue streams for smallholder farmers in Uganda who are able to profit from their fibre waste.
Oscar Ekponimo, founder of Chowberry, a technology-driven social business that reduces food waste and improves access to food in Nigeria, described how the company creates a secondary market for food at risk of waste or expiration.
Lastly, Andrew McNaught, founder and lead consultant, showed how Zambia-based company Tandem Circular Consulting works with the private sector to develop circular projects, improve resource utilisation and operating efficiencies and provide sustainable business solutions.
This series is supported by the Fit For Market SPS programme, implemented by COLEACP within the Framework of Development Cooperation between the Organisation of African, Caribbean and Pacific States (OACPS) and the European Union.