COLEACP training-of-trainers: "From face-to-face to distance learning"
15/12/2021
Posted by:

Gaetan Dermien

Category:

Angola, Benin, Burkina Faso, Burundi, Cameroon, Caribbean, Côte d'Ivoire, Democratic Republic Of The Congo, Dominican Republic, Ethiopia, Gambia, Ghana, Guinea, Kenya, Madagascar, Mali, Mauritius, News, Nigeria, Pacific, Rwanda, Senegal, Sierra Leone, Tanzania, Togo, Uganda, Zimbabwe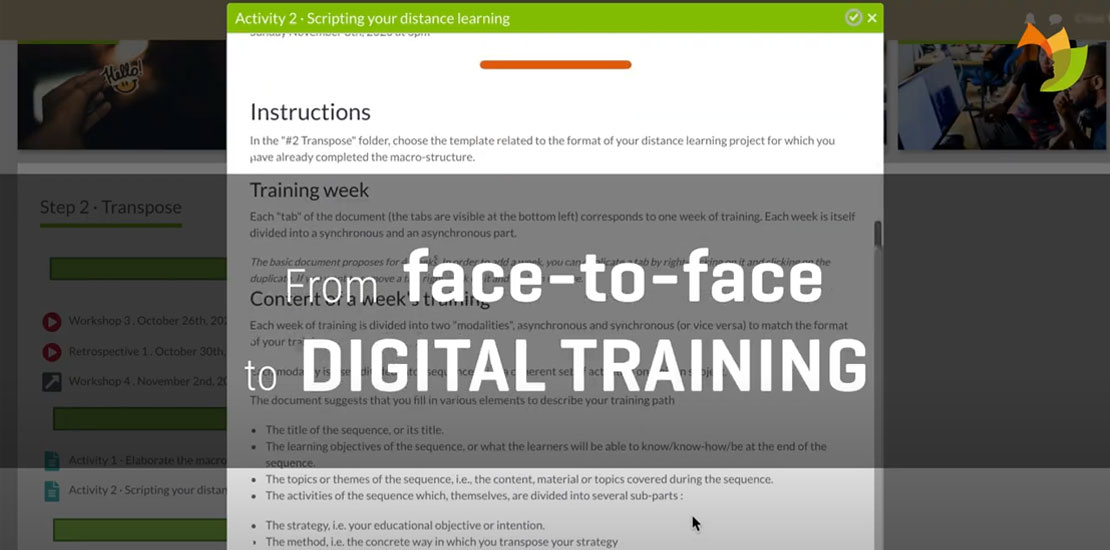 In 2020, due to Covid-19 restrictions, it became urgently necessary to develop digital tools and distance learning methods.
COLEACP mobilised quickly, and in April 2020 a training course on the basics of digital training was organised urgently for COLEACP's ACP experts and the training department team, in partnership with the Digital and Multimedia Teaching Support Centre at the University of Lausanne.
The transition to digital involves mastering new tools, learning new teaching methods, and operating a platform to host the training. Although the first courses were experimental, COLEACP quickly moved towards offering a professional distance learning service, with state-of-the-art software and tutoring methods specifically designed for training-of-trainers through distance learning.
In October–December 2020, an 8-week project-based training-of-trainers course, organised through the Fit For Market programme, aimed to familiarise ACP experts with the tools they need – and to build online training that can be replicated within horticultural companies and National Plant Protection Organisations (NPPOs).
Under the supervision of Jules Talom and David Sodade, 22 ACP experts became familiar with various digital tools, and designed 11 online training courses using the COLEACP e-learning platform. You can see the participants' views on their experiences here:
One year later, a total of 541 representatives of horticultural companies have taken part in digital training covering nine topics. In addition, 229 participants from public authorities and NPPOs benefited from training on four topics relevant to their operations. The courses cover COLEACP's main themes: Agricultural Production and Processing, Management and Development of Organisations, Food Safety, and Plant Health.
COLEACP's swift provision of online learning can be seen in the steep rise in pages viewed on our e-learning site:



The aim is to further develop these methods, in order to train as many local experts as possible in digital learning methodologies, and to increase the supply of online training resources.
In the long term, digital training will be maintained as a complement to face-to-face training in order to achieve a complete multimodal training offer (blended learning). This training will be composed of modules that can integrate all learning approaches – individual or group, synchronous or asynchronous, using digital technologies or not, distance or face-to-face.
This activity is supported by the Fit For Market programme, implemented by COLEACP within the Framework of Development Cooperation between the Organisation of African, Caribbean and Pacific States (OACPS) and the European Union, and co-funded by the French Development Agency (AFD).