COLEACP team attend OACPS Business Days 2022 in Angola
20/12/2022
Posted by:

Gaetan Dermien

Category:

Africa, Caribbean, Country, News, Pacific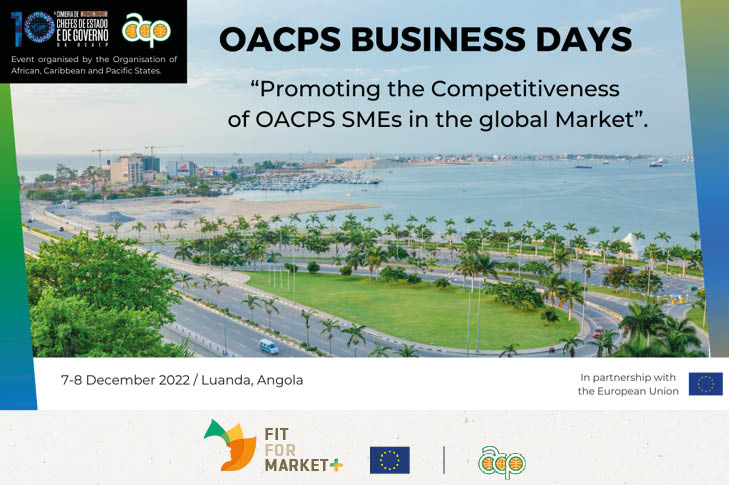 A COLEACP team led by Mr Jeremy Knops, General Delegate, visited Luanda, Angola, as part of the OACPS Business Days. The event, organised by the Secretariat of the Organisation of African, Caribbean and Pacific States (OACPS), aimed at promoting the economic transformation of OACPS states through industrialisation and private sector engagement. It was organised in the margins of the 10th Summit of OACPS Heads of State and Government.
Read the OACPS Luanda Declaration: THREE CONTINENTS, THREE OCEANS, ONE COMMON DESTINY: BUILDING A RESILIENT AND SUSTAINABLE OACPS.
On 7 and 8 December 2022, the theme of the OACPS Business Days was "Promoting the competitiveness of OACPS SMEs in the global market".
The first workshop was an interactive session through which OACPS Stakeholders were be able to debate the review and updating of the 2015 OACPS Private Sector Development (PSD) Strategy.
The second workshop sought to identify innovative solutions available to OACPS Micro, Small and Medium Sized Enterprises (MSMES) to tackle their investment and funding needs. The same enabled the sharing experiences on new business and financing mechanisms, strategies, practices and models for ACP countries PSD. The panel sought to review financial instruments available and how they can benefit the MSMEs and the growth of their ecosystem.
Finally, the third workshop, in which the COLEACP General Delegate participated, explored opportunities for development of agriculture value chains and discussed good practices being implemented within the OACPS regions with a view to: (i) promoting innovation, technology development/transfer and sustainable business models which enhance diversification and agribusiness value addition; (ii) increasing intra-OACPS trade and facilitating access to international markets through the combination of policies and investment that address supply side constraints and new market requirements/trends including the economic, social and environmental sustainability aspects; (iii) building resilience of regional value chains, by promoting sustainable food systems that deliver food security and nutrition in relation to climate change.
COLEACP, through the implementation of programmes such as Fit for Market Plus (FFM+), supports MSMEs and entrepreneurs in the agriculture and food system throughout OACPS member countries by providing continuous capacity building to promote more equitable and inclusive value chains. The FFM+ programme was exhibited at the OACPS Business Village alongside several institutions and companies, to present its support package and to create synergies with OACPS stakeholders, private sector focal points and regional integration communities.
The COLEACP team's presence in Luanda was also an opportunity to meet with Angolan agri-good MSMEs to discuss how to access support from the FFM+ programme. Around 12 applications for support have already been received.
This activity is supported by the Fit For Market Plus programme, implemented by COLEACP in the framework of development cooperation between the Organisation of African, Caribbean and Pacific States (OACPS) and the European Union.