COLEACP session at Europe Africa Stakeholder Engagement Week
28/05/2021
Posted by:

Zuzana Majeska

Category:

Africa, News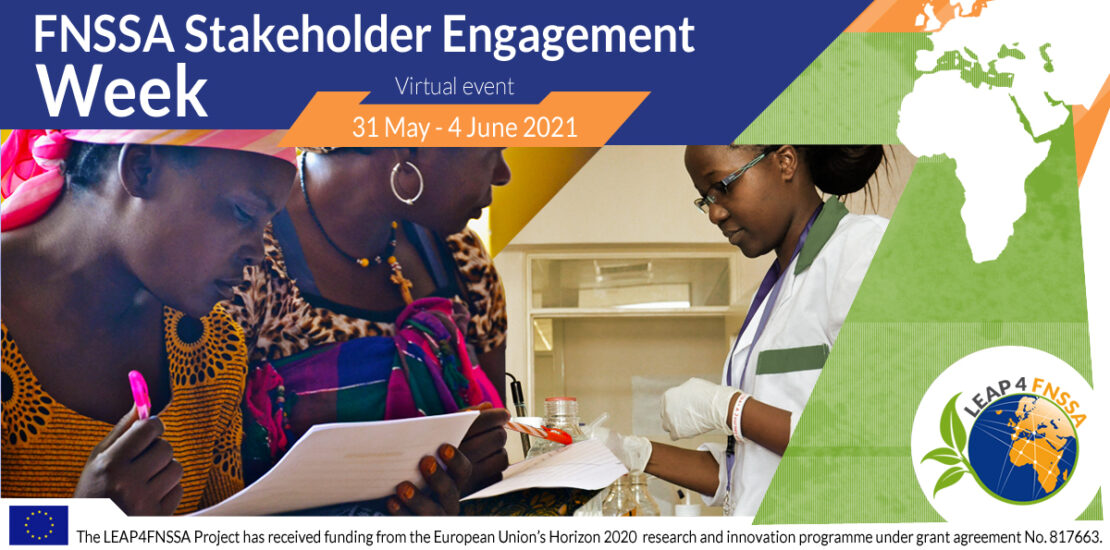 The LEAP4FNSSA Europe Africa Stakeholder Engagement Week will take place virtually from 31 May to 4 June.
MULTI-STAKEHOLDER ADAPTIVE RESEARCH FOR INNOVATIVE SOLUTIONS
During this event COLEACP will be hosting a session (3 June, 11:00–13:00 CET) on "Partnerships and Multistakeholder Approaches for Impact". The session will share examples of multi-stakeholder adaptive research projects to demonstrate how synergies and collaboration between diverse actors can generate innovative solutions. We aim to showcase partnerships between research, policy, private sector and other stakeholders that support sustainable value chains from farm to fork, addressing production, food waste, skills enhancement and digital tools. Speakers will represent the policy, research, business and farming communities.
For the full agenda of the COLEACP session and how to register, click here.
LEAP4FNSSA is the Long-term Europe-Africa Research and Innovation Partnership for Food and Nutrition Security and Sustainable Agriculture, funded by the European Union's Horizon 2020 research and innovation programme.
Europe Africa Stakeholder Engagement Week will begin on 3 June with a high-level plenary opened by Mahama Ouedraogo of the African Union Commission and Cristina Russo of the European Commission, with a panel discussion featuring Elizabeth Nsimadala, President of the Pan-African Farmers' Organization (PAFO), among others.
A total of 15 sessions on different inspiring topics will be held throughout the week, covering a wide diversity of projects (e.g. the Soils4Africa project); regions (engagement of central and eastern EU countries); approaches (how research can better support innovation for the transformation of agri-food systems in Europe and Africa); strategies (fostering multi-stakeholder partnership engagement for impact); and experiences (lessons from studying and monitoring the Partnership).
Check the detailed programme here.
The DeSIRA-LIFT project is starting!
The project will manage and deliver services for the Development Smart Innovation through Research in Agriculture (DeSIRA) Initiative in support of the European Commission (DG INTPA), the involved European Delegations and stakeholders at large. The DeSIRA-LIFT project comprises both the delivery of pre-defined services and emerging on-demand services.
The services are divided into three service areas. The first service area involves actions in support of running DeSIRA research and innovation projects in countries. The second area, led by COLEACP in partnership with NRI, will identify and implement support for the CAADP ex-pillar 4 organisations (FARA, AFAAS, ASARECA, CORAF, CCARDESA, GFAR), in close collaboration with these organisations. The third area aims at supporting the EU (DG INTPA, EU delegations) and policy makers and focuses on connecting integral results to the broader Agriculture Knowledge and Innovation System (AKIS), in particular between Europe and Africa.  
DeSIRA-LIFT is funded by the EC (DG INTPA) and implemented by Agrinatura partners. The project will start on 1st June 2021.
The FNSSA stakeholder engagement week will provide the first opportunity to present the project. A dedicated session will be held on 3rd June 2021 – 15:00-17:00 on Leveraging the DeSIRA initiative for agri-food systems transformation (DeSIRA – LIFT).
Register to the FNSSA week: https://events.iamb.it/p/event/fnssa
Link to the DeSIRA LIFT session: https://us02web.zoom.us/j/86433092389