15/11/2022
Posted by:

Zuzana Majeska

Category: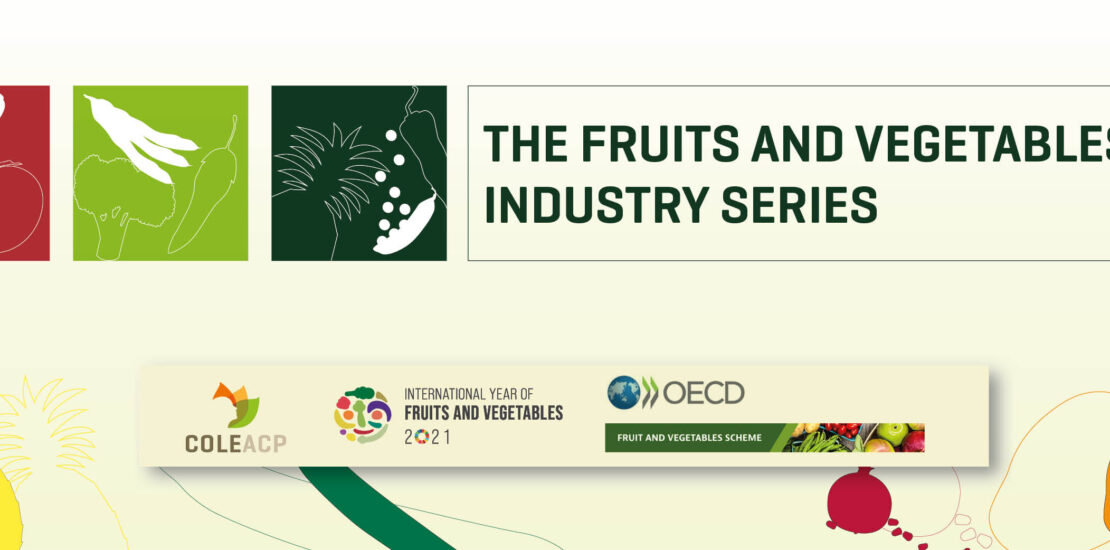 Technology innovations for fruit and vegetables quality control
Session 3 – Technology innovations for fruit and vegetables quality control
23 May 2022 – 10h00-11h30 CET

Delivering high quality and freshness of fruits and vegetables (F&V) is of paramount importance for the consumers and determines the selling price of the produces. Quality control is key in fresh-food retailing as quality often prevails over price and reducing food waste is critical.
Significant capital investments have been made to meet the changing consumers' demand for safer and better-quality foods. The food industry has also to contribute to deliver food that is better produced, distributed, stored and retailed and meets social and environmental standards and is constantly innovating to respond with efficiency to the increasing consumers' expectations.
Food preservation techniques can be classified as traditional or as emerging. Traditional techniques are based on the effects of temperature, reduction of water activity or pH, or addition of preservatives. Emerging or novel food preservation technologies are based on other processes.
Four areas in which significant advances in quality maintenance have been made over the past decade include: (i) inhibition of ethylene action with 1-methylcyclopropene; (ii) postharvest treatments to maintain the quality of fresh cut produce; (iii) modified atmosphere, active, and intelligent packaging technologies; and (iv) increasing selection for postharvest quality traits and quality stability in fruit and vegetable breeding programmes.
The main advantages of traditional food preservation techniques are lower operational costs, safety and the fact that they are well established and widely used. Emerging or novel preservation technologies may be an important complement to existing traditional processes for certain foods, but their use is associated with certain risks which need to be evaluated by industries and regulatory authorities prior to their commercialisation. Before successful development, implementation and adoption of a novel technology can take place, consumers' acceptance, product quality, preservation efficacy and final product safety need to be assessed.
As the pressure in extending shelf life products, especially for fresh produce, new products are constantly being developed by the industry.
Read more here.
PROGRAMME
Moderator: Isolina Boto, Head of Networks and Alliances, COLEACP
10:00-10:10 Welcome and introduction
10:10-10:40 Technologies for quality control
This panel will discuss the challenges and opportunities in quality control of F&V with a focus on standards, barcodes, NIR spectroscopy and aquaphotomics techniques.
– Johan den Engelse, Data Analyst, Fresh Produce Centre and consultant, FRUGICOM, The Netherlands
– Karen Spruijt de Gelder, Policy Officer, Quality Control Bureau (KCB), The Netherlands
– Tiziana Maria Cattaneo, Researcher, Council for Agricultural Research and Economics (CREA), Italy
Q&A session
10:40-11:20 Quality control of fruit and vegetables: insights from operators
This panel will feature experiences from operators in the F&V industry who implement innovations for improved quality control of F&V.
– Rick Schot, Business Developer, Experience Fruit Quality, The Netherlands
– Alexandru Luca, DigiFresh (Digital monitoring of fruit & vegetable freshness) Consortium
– Wycliffe Arodi, Group Technical Manager, Keitt Exporters Limited, Kenya
Q&A session
11:20-11:30 Conclusion and way forward
José Brambila-Macías and Marie Russel, Fruit and Vegetables Scheme (quality and marketing standards), OECD
Speakers
Wycliffe ARODI – Group Technical Manager, Keitt Exporters Limited, Kenya

Keitt Exporters Limited, the Kenyan leading exporter and importer in fruits and vegetables to markets in Europe and the Middle East.

Isolina BOTO – Head of Networks and Alliances, COLEACP

Isolina is the Head of Networks and Alliances at COLEACP, a non-profit association of private sector operators in the agrifood sector active in the European Union (EU), Africa, the Caribbean and the Pacific (ACP) regions. Isolina has more than 25 years of experience in agricultural development. She started her career with the European Commission, worked with various ACP embassies and NGOs in areas related to food security, rural development and trade. Before joining COLEACP, she was the Manager of the Technical Centre for Agricultural and Rural Cooperation ACP-EU (CTA) Brussels Office (2004-2020) implementing policy initiatives related to the ACP-EU cooperation in the field of agricultural and rural development. She has led trade and agribusiness projects in support of capacity development of small and medium-sized enterprises (SMEs), entrepreneurs and farmers organisations across Africa, the Caribbean and the Pacific.

José BRAMBILA-MACIAS – Programme Manager, Trade and Agriculture Directorate, Agricultural Codes and Schemes, OECD

Dr. José Brambila is the Programme Manager of the Organisation for Economic Co-operation and Development (OECD) Fruit and Vegetables Scheme. He has a strong econometric background with a specialisation in development economics. Before joining OECD he worked for the University of Reading, UK, ,as a Research Fellow and as a consultant for FAO's Trade and Markets Division. Previously he worked for OECD's Statistics Directorate and at the International Monetary Fund in the Western Hemisphere Department. His areas of expertise include panel cointegration, pseudo-panels, quantile regression, generalized method of moments (GMM) and time series analysis.

Tiziana Maria CATTANEO – Researcher, Council for Agricultural Research and Economics (CREA), Italy

Tiziana Maria Cattaneo is Research Manager for the Council for Agricultural Research and Economics (CREA) at the Research Centre of Engineering and Agro-Food Processing, Dept., Milan, Italy. She joined CREA in 1987 and began research into the application of near infrared (NIR) spectroscopy on dairy field in 1996. She became Research Manager in 2003 and continues to improve the development of applied research in dairy and fruit and vegetable fields. From 2010 to 2017, Tiziana was appointed as Director of the Research Unit for Food Processes in Milan, Italy.
Tiziana is involved in national and international research groups, and is, for example, member of the International Committee of Near InfraRed Spectroscopy (ICNIRS) Advisory Committee and expert of the National Agrofood Cluster (CLAN)– Item 5: Agrofood plants. From 2010 to 2016, Tiziana was also President of the Italian Society for Near InfraRed Spectroscopy (SISNIR).
Tiziana qualified in Food Technology at the University of Milan, Italy, and her scientific activity is supported by about 390 research papers, lectures, and posters.

Johan den ENGELSE –Data Analyst, Fresh Produce Centre and consultant, FRUGICOM, The Netherlands

Johan den Engelse is an agricultural economist with a specialisation in farm management from Wageningen University & Research Centre, the Netherlands. He started his career in 1998 as sector specialist in horticulture and arable farming and has been working for FRUGICOM since 2009. FRUGICOM focuses on the standardisation of international information exchange about the quality and logistic of fresh produce from grower to consumer, and has a partnership with GS1 Netherlands, the global platform and service organisation for sharing product data including through barcodes. In 2012, Johan also joined the traders' association FrugiVenta which merged into

the Dutch Fresh Produce Centre in 2016. Johan is involved in several international working groups as member of the working group for fresh F&V of GS1 Netherlands in Europe, as member of the Dutch Delegation for domain Agriculture, Fisheries and Agri-food within the United Nations Centre for Trade Facilitation and Electronic Business (UN/CEFACT) regarding international electronic message development and as member of the Product Identification Committee (e.g. PLU-codes) of the International Federation for Produce Standards (IFPS Global).

Alexandru LUCA – DigiFresh (Digital monitoring of fruit & vegetable freshness) Consortium

Alexandru Luca (ALLU) is a food scientist and since 2022 Assistant Professor at the Department of Food Science of Aarhus University Denmark where he has been working since 2012. He previously worked in 2018 as a scientist at the Leibniz Institute for Agricultural Engineering and Bioeconomy in Potsdam, Germany, as well as from 2019 to 2020 as a postharvest specialist/industrial Postdoc at Maersk Container Industry in Tinglev, Denmark.
ALLU is interested in optimising the supply chain to reduce the waste of fruit and vegetables and improve their storability. He has 16 peer-reviewed publications with 310 citations (H-index 9 (May 2022)), 10+ conference proceedings, 15+ popular science articles, and one patent as a co-inventor. He has more than 6 years of expertise in conducting industry-oriented research and in the implementation of scientific knowledge in the postharvest sector. He also leads the EU-funded DigiFresh project which aims to determine the shelf life of fresh fruit and vegetables at each stage in the supply chain.
ALLU holds a Master of Science in Food Engineering from Middle East Technical University (METU) in Ankara, Turkey, and a Ph/D in Food Science.

Marie RUSSEL – Senior Programme Officer, Trade and Agriculture Directorate, Agricultural Codes and Schemes, OECD

Dr Marie Russel is a Senior Programme Officer at the OECD in Paris, France, and coordinates the activities of the OECD Fruit and Vegetables Scheme. Before joining the OECD she worked at the French National Centre for Scientific Research (CNRS) and the French National Institute for Agricultural Research (INRA) on research management and European cooperation in the fields of sustainability and resilience of ancient and contemporaneous agricultural and food systems.
She holds a food science and engineering degree (MSc) from the French National School of Agronomy and Food Industries (ENSAIA) in Nancy, France, and a PhD in historical archaeology of food from University of Provence at Aix-en-Provence, France.

Rick SCHOT – Business Developer, Experience Fruit Quality, The Netherlands

Rick Schot is an active entrepreneur and Business Developer at Experience Fruit Quality, a Dutch company which developed the first easy to use portable solution that helps execute objective and non-destructive quality control with the use of artificial intelligence (AI), such as the non-destructive avocado machine (AVOS MINI). Rick is responsible for improving the supply chain with AI, which will result in better waste management, reduced costs and better decision making.
Since 2015, Rick also leads his e-commerce company named Pongmaster which markets fun-gadgets for young people.
Rick trained in trade economy, entrepreneurial and small business operations, and new business development. He holds a Bachelor of Applied Science in Human Resource Management from Hanze University of Applied Sciences Groningen, the Netherlands, and a Master of Business Administration (MBA) in Entrepreneurship from EU Business School.

Karen SPRUIJT de GELDER – Policy Officer, Quality Control Bureau (KCB), The Netherlands

Karen Elize Spruijt de Gelder is a legislation and export policy officer. She started working for the agro-sector in 2005 at the Dutch Dairy Board. In co-operation with the Ministry of Agriculture, the Netherlands Food and Consumer Product Safety Authority (NVWA) and the inspection agency for milk, she received international inspection delegations to work on bilateral agreements for international trade.
Since 2021, she has been working as a policy officer for the Quality Control Bureau (KCB) building bridges between the Ministry of Agriculture, NVWA, the Dutch Customs, the F&V sector and other international inspecting agencies when it comes to international quality standards and trade standards for F&V. Karen is one of the KCB representatives at the Dutch delegation to the OECD Fruit and Vegetables Scheme.
Karen has a Bachelor's degree of European Studies from Hague University, the Netherlands, and a Master of Science in Public administration from Erasmus University Rotterdam, the Netherlands.