Caribbean AgTech investment opportunities
25/10/2021
Posted by:

Zuzana Majeska

Category:

Caribbean, News
The first 2021 Caribbean AgTech Investment Summit explored the opportunities for agricultural technology companies in the Caribbean, welcoming over 500 registrants from 60 countries around the world.
Introducing the event, Dr Irfaan Ali, President of Guyana, spoke of the Caribbean Community (CARICOM) e-agricultural strategy "to improve producers' competitiveness, incorporate greater climate smart technologies in the production process, increasing intra-regional trade and improving market infrastructure and connectivity, especially for small producers" (Caribbean Export News, 6 October). This is a key part of the region's broader plan to empower and increase the wealth of its farming communities, and a major platform in attracting international businesses.
COLEACP DG Jeremy Knops gave a presentation during a session on "Expanding Agribusiness in the Caribbean through AgTech", alongside contributions from Caribbean Export Development Agency (Caribbean Export), Caribbean Association of Investment Promotion Agencies (CAIPA), Caribbean Agribusiness Association (CABA) and Caribbean Private Sector Organisation (CPSO).
A recording of the presentation is available here.
The organisers and sponsors have published a catalogue – "Caribbean AgTech Investment Opportunities" – to inform potential investors about opportunities in the AgTech sector in each of the 23 CAIPA member states.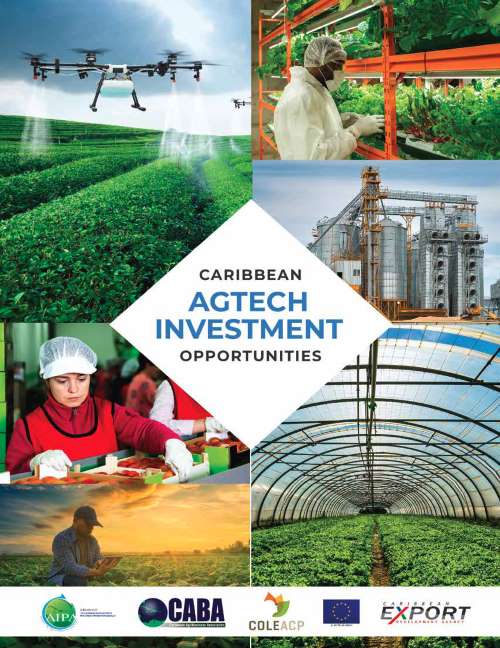 The 3-day virtual event, held 5-7 October as part of the Caribbean Week of Agriculture, was convened by Caribbean Export in collaboration with the European Union and CAIPA. Sponsoring partners included CABA and COLEACP.
This activity is supported by the Fit For Market and Fit For Market SPS programmes, implemented by COLEACP within the Framework of Development Cooperation between the Organisation of African, Caribbean and Pacific States (OACPS) and the European Union. Fit For Market is co-funded by the French Development Agency (AFD).