Africa's Covid-19 resurgence and COLEACP's response
16/07/2021
Posted by:

Zuzana Majeska

Category:

Africa
On 8 July 2021, the World Health Organization (WHO) Regional Office for Africa reported that during the seven days to 4 July the continent saw its worst pandemic week ever (WHO Africa, 8 July 2021).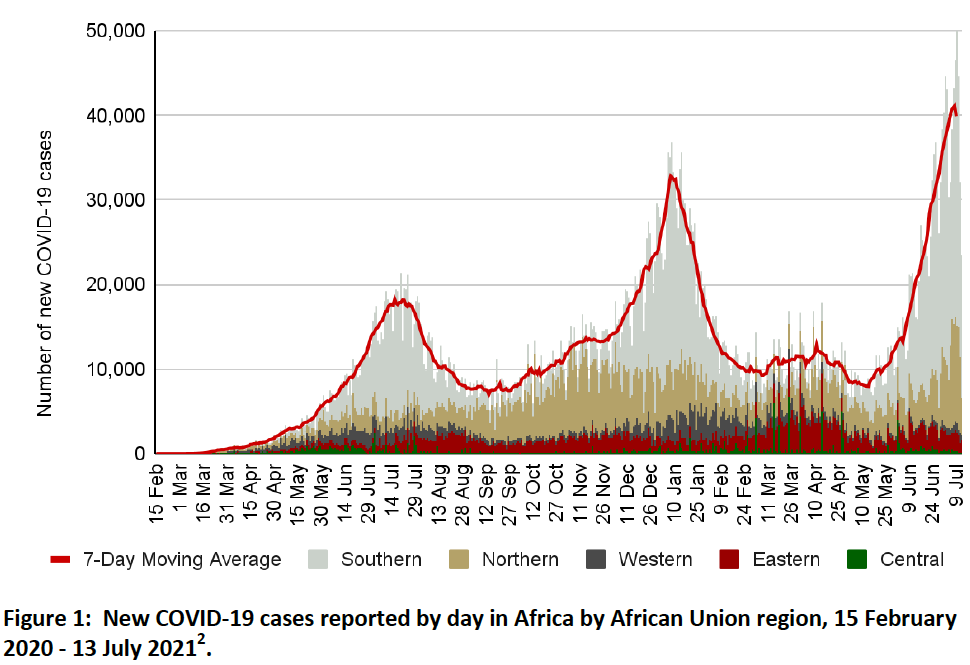 Source: Africa CDC Outbreak Brief #78, 13 July 2021
Sixteen African countries are now in resurgence, with Malawi and Senegal added to the list most recently. The Delta variant has been detected in 10 of these countries. According to Dr Matshidiso Moeti, WHO Regional Director for Africa, "The end to this precipitous rise is still weeks away. Cases are doubling now every 18 days, compared with every 21 days only a week ago."
The 50 million vaccine doses administered on the continent to date account for just 1.6% of doses administered globally. Sixteen million, or less than 2%, of Africans are now fully vaccinated. But much larger Covid-19 vaccine deliveries are expected to arrive in July and August.
The New York Times (8 July 2021) reports that the third wave is impacting countries mainly in southern and eastern Africa, and one country in North Africa — Tunisia — is experiencing its fourth wave. Namibia, a nation of just over 2.5 million people, has been recording more than 1,000 new cases a day. A spike in cases in Zambia has pushed the government to restrict social gatherings and close schools. In Uganda, which was praised for its initial virus response, hospitals have been stretched thin. Rwanda restricted movement in its capital in late June, and Kenya has instituted partial lockdowns and extended curfew hours in over a dozen counties.
New impact on Africa's rural areas
But unlike the previous waves, this new surge of the virus is penetrating Africa's rural areas, where most of the continent's people live, spreading to areas that once had been viewed as safe havens from infections that hit cities particularly hard (Associated Press, 30 June 2021). In Zimbabwe, for example, three of the four districts under strict lockdown and declared as epicentres of the outbreak are in the predominantly rural Mashonaland West province. Dr Johannes Marisa, president of the Medical and Dental Private Practitioners of Zimbabwe Association, said "Covid-19 is now coming from the rural areas." He attributes the spike to "a high degree of complacency," a lack of information and few vaccinations, and the prioritisation of urban areas.
In response to this resurgence, Dr Moeti says that "We can still break the chain of transmission by testing, isolating contacts and cases and following key public health measures" (WHO Africa, 8 July 2021).
COLEACP's Covid-19 Action Plan
This action plan is issued within the Framework of Development Cooperation between the Organisation of African, Caribbean and Pacific States (OACPS) and the European Union.
Our aim since the start of the pandemic has been to increase the resilience of ACP MSMEs so they can protect the health and safety of employees, workers, producers and their communities; safeguard livelihoods; and contribute to food security and nutrition. Building on current activities under its two Fit For Market programmes, COLEACP's Covid-19 Action Plan focuses on five key areas:



1 – Market access and food security

– Matching supply to demand with regard to logistics, diversifying from export to local/regional markets and from fresh to processed, and interactions with customs and border controls



2 – Enhancing coronavirus health and safety

– Sensitising and training the ACP agri-food industry on Covid-19 preventive measures to protect health and safety

3 – Support to business management

– Supporting the ACP agri-food industry to develop contingency plans for cashflow management and access to working capital, and for staff retention and reorganisation

4 – Advocacy

– Communicating on behalf of the ACP agri-food industry with governments, international institutions and financial intermediaries

5 – Information and communication – Keeping the ACP and EU agri-food industry up-to-date on trade and market dynamics, and providing the foundation for all COLEACP activities
Our local relays and Covid health-and-safety training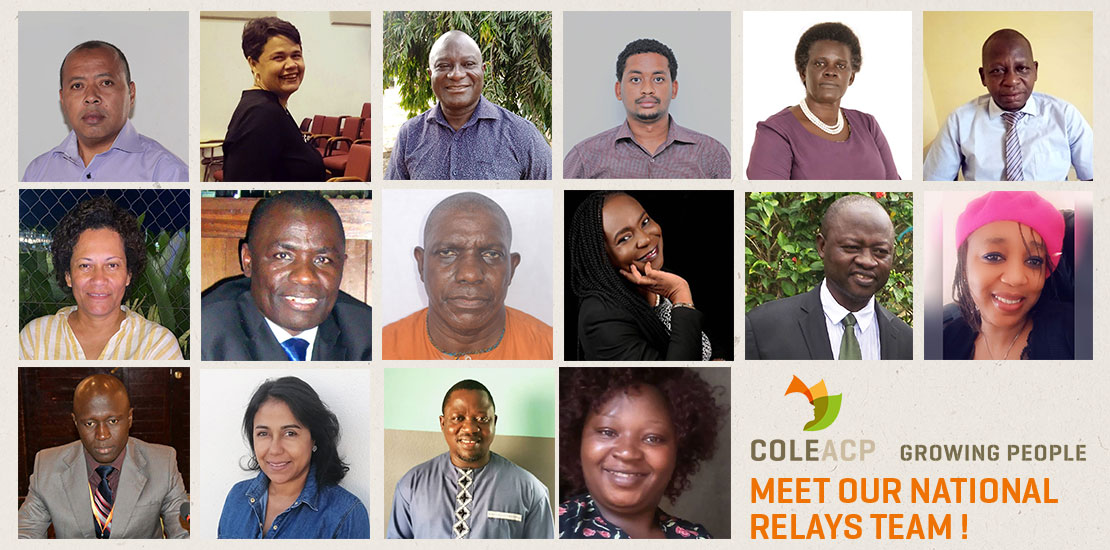 Our longstanding policy of mobilising national expertise where possible, through our established team of in-country "relays", has benefits in the current context of international travel restrictions. And of course we always follow the guidance of our own Covid-19 safety training courses to ensure protective measures are applied: masks, social distancing and hand-washing.
During 2020, COLEACP organised group training on Covid-19 health and safety for different target audiences – experts/trainers, public services, local relays, horticultural companies and cooperatives. The training aimed to ensure that people working throughout the value chain, from field to market, can operate in complete safety, enabling them to maintain a sufficient level of food production and affordable prices for all. Horticultural companies could also follow up the training with further individual coaching sessions from the experts who had received training-of-trainers.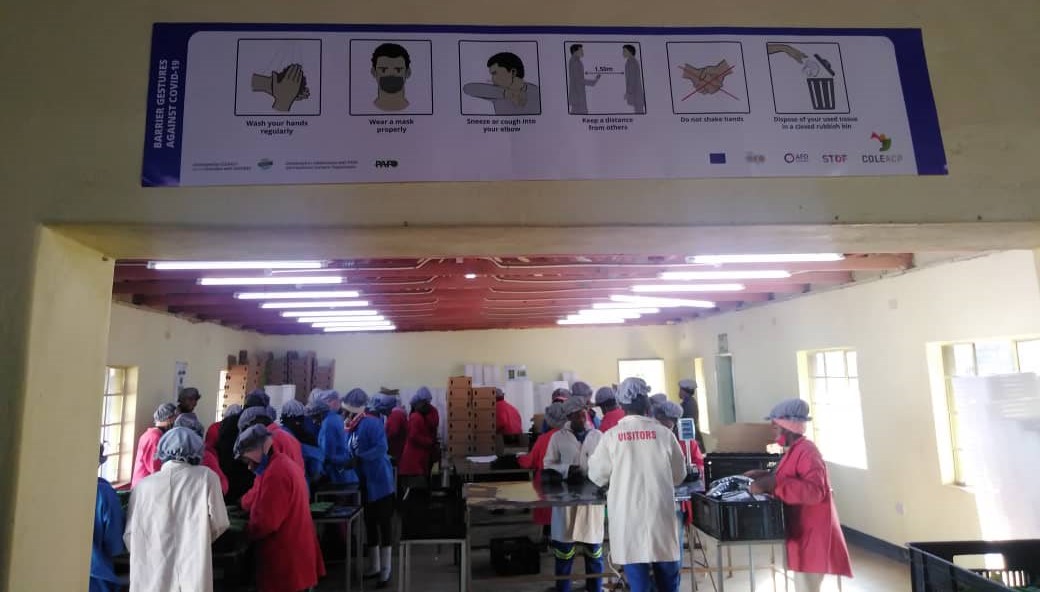 The Covid-19 training content has been updated in 2021, particularly regarding new measures on private standard requirements (BRCGS, GLOBALG.A.P.) – and based on our experience we have been able to make the training more attractive and practical for the participants.
Two training courses for English-speaking ACP countries are being organised in July 2021 under the NExT Kenya and Fit For Market programmes, followed by a further course in September; training for French speaking countries will take place in August. These two-week courses for experts, consultants and horticultural companies are facilitated by trainers who themselves received training in 2020.
For regular updates on Covid-19 statistics by region and country, see the African Union and Africa CDC Covid-19 website at https://au.int/en/covid19.
COLEACP focuses on Covid safety
The association's work has continued without a break since the start of the pandemic, with the swift introduction of blended and fully digital technical assistance and training activities. While digital options are still preferred for COLEACP group activities in ACP countries, some in-person activities are taking place, facilitated by our strict adherence to the sanitary measures in force in each individual country (including concerning cross-border travel). COLEACP staff, relays, experts and service providers are all advised to regularly update themselves about the country's health situation before organising an in-person activity. If in doubt, COLEACP staff follow the rules applied by the Delegation of the European Union in the respective country.