African Diaspora Agrofood Entrepreneurs Compendium
18/10/2022
Posted by:

Gaetan Dermien

Category:

Uncategorized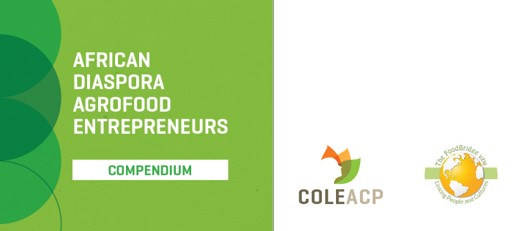 COLEACP and The FoodBridge vzw, a non-profit organisation, have produced a Compendium showcasing the innovative businesses of nine African Diaspora agrofood entrepreneurs. These entrepreneurs have seized the opportunities to apply their education and professional skills gained in Europe to support sustainable development in their country of origin, alongside achieving entrepreneurial success in their country of residence. Through their businesses, they contribute to the development of the African continent and address the social, economic and environmental challenges in their place of origin. Entrepreneurs from the African Diaspora also foster new collaborations and relationships between continents.
COLEACP – through the FFM and FFM SPS programmes – and The FoodBridge vzw have worked together to enhance the visibility of entrepreneurs from the African Diaspora and their contribution to the economic and social wellbeing of Africans. The African Diaspora Agrofood Forums, jointly co-organised in 2020 and 2021, have reunited stakeholders to discuss the role of the African Diaspora and global agribusiness in supporting development both on the African continent and in diaspora communities.
On 21 October 2022, The Food Bridge vzw and its partners are organising the 6th edition of the African Diaspora Agrofood Forum focusing on Investment, Trade and Transformative Development, during which the Compendium will be presented. The conference day will be followed by an agrofood exhibition on 22 October 2022 in Brussels. More information and registration are available here.
The African Diaspora Agrofood Entrepreneurs Compendium has been supported by the Fit For Market and Fit For Market SPS programmes, implemented by COLEACP within the Framework of Development Cooperation between the Organisation of African, Caribbean and Pacific States (OACPS) and the European Union.