850 new learners per month registered on the COLEAD e-learning platform
11/04/2023
Posted by:

Gaetan Dermien

Category:

ACP EN, News
Since the start of the year, around 850 new learners register monthly on the COLEAD e-learning platform (mainly via FFM+ programme). This vocational training platform (training.colead.link) is one of the online resources developed by COLEAD. To date, close to 20,000 users are registered on the platform, out of which 72.6% are based in member countries of the OACPS. Additionally, 75 of the 78 ACP countries are represented. Madagascar is the top user country with 1563 learners, due in part to the integration of the e-learning platform's learning journeys into the Malagasy agronomy university curriculum. Kenya, Côte d'Ivoire and Cameroon follow closely behind.
Recent evolution of the number of learners on the e-learning platform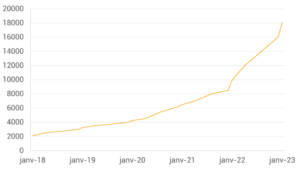 The other digital platforms of the COLEAD resource centre are : the online library, analytics on agricultural and food markets, and the agrinfo.eu information system on the evolution of EU regulations.
This activity is supported by the Fit For Market+ programme, implemented by COLEACP within the Framework of Development Cooperation between the Organisation of African, Caribbean and Pacific States (OACPS) and the European Union.